Pradaxa Lawsuit Alleges Wrongful Death and Inadequate Warning Label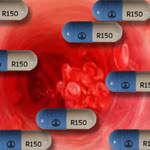 The wife of a man who died has chosen to file a Pradaxa lawsuit on his behalf. Mary Cornwell, a resident of Ohio, filed her case against Boehringer Ingelheim—the manufacturer of Pradaxa—in the U.S. District Court for the Southern District of Illinois on October 10, 2012. Illinois is the location of the ongoing multidistrict litigation (MDL) alleging side effects from the medication.
Plaintiff Cornwell alleges that her husband, Ernest Cornwell, suffered internal bleeding after taking Pradaxa and died. She brings counts of wrongful death, loss of consortium, misrepresentation and fraud, negligent misrepresentation, breach of warranties, negligence, design and manufacturing defect, and failure to warn.
Plaintiff's husband died due to Pradaxa internal bleeding
On June 11, 2011, Ernest Cornwell was prescribed and began taking Pradaxa twice a day in order to treat his atrial fibrillation. He had severe internal bleeding in the upper gastrointestinal tract and was admitted to the hospital on February 11, 2012.
After receiving fresh frozen plasma, blood transfusions, along with other procedures, Ernest Cornwell died.
Pradaxa doesn't have a known antidote to stop internal bleeding when it occurs. Had there been one, Ernest Cornwell might have survived.
Pradaxa has no antidote for internal bleeding
Pradaxa is a blood thinner that was approved in 2010. Used in patients who have non-valvular atrial fibrillation to prevent strokes. Pradaxa was the first new treatments for such problems created in nearly 60 years. Prior to Pradaxa, warfarin (Coumadin) was the medication most frequently used for this purpose.
Unlike Pradaxa, however, warfarin has a ready antidote for internal bleeding should it occur. The internal bleeding from warfarin can be stopped by administering a dose of vitamin K. There is no anti-bleeding device to stop internal bleeding from Pradaxa making it more risky and possibly deadly.
Manufacturer admits to fatal bleeding events from Pradaxa
Boehringer Ingelheim has acknowledged at least 260 fatal bleeding events worldwide from Pradaxa. An investigation was started by the FDA on December 7, 2011, to look into these bleeding events. Pradaxa's label has no information as to what a doctor is supposed to do when confronted with a patient who experiences bleeding similar to that which allegedly killed Ernest Cornwell.
The label on the drug was changed in January of 2012, but the plaintiff claims that this change was insufficient as it added language regarding the irreversibility of internal bleeding after taking the drug and was in small print on the fifth and sixth pages of the packet.
Mary Cornwell asserts that the warning label on the drug is inadequate to alert doctors and patients as to the potential side effects resulting from Pradaxa use. She also alleges that the design of the drug is flawed with its dose being the same for everyone. Warfarin has a monitored dosage that is adjusted when necessary.
Pradaxa has no "black box" warning to alert medical professionals and users of the drug as to the possible fatal consequences if bleeding starts.
[SmartLink pradaxalawsuit]