Propecia MDL Adds Side Effects Lawsuit From Wisconsin Man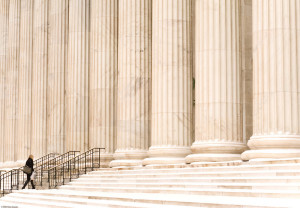 The Propecia MDL, which consolidates Propecia lawsuits, added a new case on October 26, 2012 . The new lawsuit was filed by a Wisconsin plaintiff in the U.S. District Court, Eastern District of New York (Brooklyn), where the MDL is being overseen by Judge John Gleeson.
Plaintiff claims sexual dysfunction caused by Propecia
According to his lawsuit, the Wisconsin resident began taking Propecia to treat his male pattern baldness in 2005, when he was 35 years old. He took the drug consistently for only one year. But even though he stopped taking Propecia six years ago, he continues to suffer side effects of the drug, including sexual dysfunction.
Propecia (finasteride) was developed to treat premature hair loss in men. It works by interfering with the conversion of testosterone to dihydrotestosterone (DHT) However, in some men, this can interfere with sexual function, causing side effects such as erectile dysfunction, decreased libido, reduced volume of ejaculate, and reduced sperm count. Some men have also experienced non-sexual side effects such as cognitive impairment, memory loss, communication problems and depression. Follow this link for more information on side effects of using Propecia.
Studies find Propecia side effects long-lasting
When Propecia was first introduced in 1997, the label assured men than fewer than 2 percent of men who took the drug experienced side effects, and that in those rare cases, the side effects were temporary and would disappear once use of the drug was discontinued.
But a study performed by Dr. Michael S. Irwig of George Washington University found that among men who experienced side effects, the symptoms persisted for an average of 40 months after they discontinued the drug, and 20 percent of those men were still experiencing these side effects five years later. A study done in 2003 found that among men who experienced sexual dysfunction caused by Propecia, only 50 percent fully recovered their previous sexual function after they stopped taking the drug.
Hundreds of men who have suffered these side effects have filed lawsuits against Merck, the drug's manufacturer, alleging that the company knew, or should have known, about Propecia's side effects, but did not adequately warn doctors or potential users about them.
[SmartLink propecialawsuit]