Stryker Hip Problems: An Overview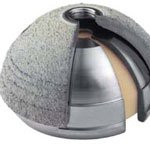 Many hip patients who were implanted with Stryker Rejuvenate, Trident, or ABG II hip replacement devices have suffered complications and have been forced to undergo revision surgery. Hundreds of these patients have gone on to file a Stryker hip replacement lawsuit. All three of these Stryker hip models were ultimately recalled. Here is an overview of the complications caused by these hip models and the resulting litigation.
Trident complications and FDA warnings
Although all three if these Stryker hip implants have caused problems for patients, the devices were made differently, and thus the cause of the problems was different.
The Trident implant was a ceramic-on-ceramic hip, but due to contaminated components, many patients implanted with this model suffered infections, joint pain, hip fractures, loosening of components, or a squeaking sound in the hip joint.
Stryker recalled the Trident Hemispherical Cups and the Trident Acetabular PSL cup in January 2008. Prior to the recall, the company had gotten several warnings and reprimands from the FDA. In 2007, the FDA warned Stryker about violations in the manufacturing, packaging and storage of Trident Acetabular components at its Cork, Ireland factory, and about a staphylococcus contamination at its Mahwah, New Jersey factory. In addition, the FDA reprimanded Stryker for its failure to address and fix the issues with its Trident implant, including improper implant seating and poor ability to adhere properly to patients' bone.
Rejuvenate and AGB II problems
Although the Rejuvenate and ABG II models were not considered metal-on-metal devices, because they did not have a metal "ball" that fit into a metal socket, both models did have a metal neck and stem that could rub against each other, and the resulting friction could cause metal particles to wear off and get into into the patient's tissues or bloodstream – a condition known as "metallosis" which can cause patients to suffer swelling, soft tissue death, and bone loss. In 2012, Stryker voluntarily recalled both implant models.
Eligibility for Stryker hip litigation
Patients who have suffered injuries from any of these recalled hip implants are advised to consult with a knowledgeable Stryker hip recall lawyer. A consultation is completely free, and the attorney can advise you on whether you may be eligible for financial compensation through a lawsuit. If you do choose to proceed with a lawsuit, you typically pay the attorney nothing unless he wins your case.
[SmartLink strykerhiplawsuit]