Stryker Trident and Rejuvenate Hip Implants Have Complications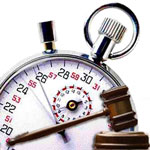 Due to complications from two different types of Stryker hip implants, many people are choosing to file a Stryker hip replacement lawsuit. The Stryker Trident and the Stryker Rejuvenate hip implant systems were both recalled following complaints that numbered in the hundreds. The FDA investigated and warned the company regarding the hip devices amid all the patient complaints and failures.
Stryker Trident can cause squeaking joints and bone fractures
The Stryker Trident hip implant was first approved by the FDA in 2003. The ceramic-on-ceramic device began to have problems by 2005 when the FDA received reports of issues with failure and other problems concerning the replacement parts of the implant. Other problems include improper seating and ceramic part positioning—these can cause squeaking joints and bone fractures.
In light of these allegations, the FDA inspected Stryker's manufacturing facility in Cork, Ireland. It was there that they found violations of good manufacturing practices as well as the failure to establish adequate risk analysis and repair procedures.
Stryker was warned again in 2007 as the manufacturing plant in New Jersey potentially contained bacteria clusters of the fatal Staphylococcus (Staph) infection. A recall of the Trident Hemispherical Cup System and the Trident Acetabular Cup System was implemented by the company on January 22, 2008.
Stryker Rejuvenate complications include metallosis and bone loss
In June 2008, Stryker had another device—the Stryker Rejuvenate Modular system—approved by the FDA. This device is metal-on-metal (MoM) without parts made of plastic and ceramic. Marketed as a flexible hip replacement that was better than the competitors, this device was also subject to complaints.
The reports stated that the stem and neck components in the Rejuvenate wear against one another and cause such side effects as: premature hip failure, bone loss, tissue damage, bone damage, pseudotumors, and metallosis.
A Canadian recall was enacted and the FDA warned the company who, on July 6, 2012, recalled the Stryker Rejuvenate in the U.S.
Stryker hip implant recipients consider filing lawsuits
Patients who have suffered due to the implants are filing lawsuits seeking compensation for Stryker injuries. These cases have been filed in both federal and local venues. The Rejuvenate cases have not been centralized, but the recall is recent and cases may be upcoming. If so, they are likely to form a mass tort, joint litigation, or MDL.
The Trident was released and recalled earlier and has a higher number of complaints. This has led to consolidated cases in several states. One is a class action in Massachusetts consisting of 40 plaintiffs. Another is a New Jersey centralized litigation with over 180 complainants.
[SmartLink strykerhiplawsuit]