Three Plaintiffs Claim Yaz Blood Clotting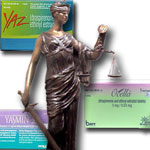 Several women are seeking compensation for side effects they have experienced allegedly as a result of the oral contraceptive sold as Yaz or Yasmin. They are seeking compensatory, punitive, and exemplary damages from drug maker Bayer, based on claims that the popular fourth-generation birth control pill caused them to suffer a number of serious side effects, including blood clots, pulmonary embolism, and deep vein thrombosis. The three female plaintiffs filed their lawsuit on the 25th of October, 2012, in the Superior Court of Los Angeles County, California.
Blood clots linked to use of Yaz
Yasmin was first approved by the Food and Drug Administration in 2001, and Yaz was approved a few years later. Both are oral contraceptives that contain the synthetic hormone drospirenone, which is dissimilar to other oral contraceptives. However, several studies link the drug to blood clots, which can cause further complications including deep vein thrombosis, pulmonary embolism, stroke, and even death.
Pulmonary embolism and deep vein thrombosis are some of the most commonly cited conditions by patients who have chosen to file a Yaz lawsuit. They are serious conditions that result from blood clots becoming lodged in the veins and arteries of the lungs and limbs, respectively. If they are not treated quickly, they could become fatal or cause further complications for a patient. Several studies have linked the use of Yaz or Yasmin to blood clots, which are a risk with any hormonal contraceptive, but the risk with Yaz appears to be much higher than with any other birth control pill.
Patients seek legal help
The three plaintiffs' lawsuit joins dozens of others filed by women seeking compensation for side effects they have suffered. If you have suffered from side effects after taking Yaz or Yasmin, click here for additional information about filing suit against drug maker Bayer. An experienced personal injury lawyer may be able to help you with your case and answer questions you may have.
[SmartLink yazlawsuit]