Woman Claims Yaz Caused Her Gallbladder Disease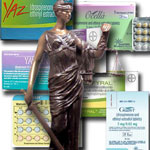 A new Yaz lawsuit was filed on November 13, 2012 by Denee Harvey against Bayer Healthcare Pharmaceuticals, et al. in the U.S. District Court for the Southern District of Illinois.
From January of 2008 to November of 2009, Harvey, a Wisconsin resident, took the birth control pills Yaz, Yasmin, and/or Ocella. She alleges that as a result of her ingestion of these medications, she was diagnosed with gallbladder disease. She underwent a cholecystectomy on March 28, 2010.
No long-term studies available for main ingredient of Yaz and Yasmin
Yaz and Yasmin are birth control pills whose main ingredient is the fourth generation progestin drospirenone. The recently approved generic version of Yaz and Yasmin, Ocella, also contains this progestin, but other than these medications, no other birth control pill has this ingredient.
As a new progestin, there aren't long-term studies as to the safety of fourth generation progestins as there are with second generation progestins. However, there were studies done prior to the approval of Yaz and Yasmin by the FDA and these indicate that drospirenone has different and potentially more dangerous side effects than the second generation progestins. Some of these risks include Yaz blood clots and gallbladder disease. The blood clots are especially risky because they can cause pulmonary embolism (PE), deep vein thrombosis (DVT), stroke, and other problems.
Plaintiff claims use of Yaz is a proximate cause for her problems
The plaintiff's attorney alleges that as a proximate cause of the complainants ingestion of Yaz, Yasmin, or Ocella, she suffered gallbladder disease and other injuries. She asserts that she has suffered from physical injury and bodily impairment, pain and suffering, as well as her gallbladder disease and cholecystectomy. She says that these will affect her for the rest of her life.
Case joins Illinois MDL against Yaz and Yasmin
She brings counts of inadequate warning, nonconformance with representation, failure to adequately test, defective manufacturing, design defect, negligent misrepresentation and/or fraud, breach of express and implied warranties, negligence, violation of the Consumer Fraud and Deceptive Business Practices Act, and violation of the Consumer Fraud Protection Statutes of Other States. She seeks compensation for her legal costs, compensatory, statutory, punitive and/or exemplary damages. Her attorney also states that Harvey could not possibly have known of the risks of the birth control medications.
This case joins others seeking compensation from Bayer in federal MDL No. 2100. This MDL consolidates the complaints alleging side effects DVT, PE, gallbladder disease and other problems.
[SmartLink yazlawsuit]