Yaz Lawsuit Joins California Coordinated Proceeding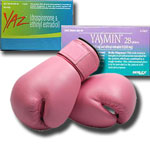 On November 6, 2012, a new lawsuit was filed against Bayer Corporation and related parties due to side effects from their oral contraceptive pill Yaz. Filed in the Superior Court of Los Angeles County, California, this complaint joins a coordinated proceeding assigned to the Honorable Judge Elibu Berle. The plaintiff, a 23-year-old woman, claims that she suffered serious complications after taking Yaz.
Bayer has allocated over $1.5 billion to settle Yaz lawsuits
Many women have chosen to file Yaz lawsuits after suffering side effects from the medication. Because there have been so many claims filed, Bayer has set aside over $1.5 billion to pay settlements for affected complainants.
Yaz has been linked to many side effects including deep vein thrombosis (DVT), pulmonary embolism (PE), stroke, and blood clots. DVT results from a blood clot that occurs deep in the veins, usually in the legs. Treatment for DVT entails giving the patient anticoagulant medications to prevent a buildup that might cause such problems as PE.
Plaintiff required surgery to remove her gallbladder after taking Yaz
The plaintiff in this case filed her claim via short form complaint to join the larger master complaint of the coordinated proceeding. This case is unique in its fact pattern as she alleges to have suffered injuries that necessitated her gallbladder being removed following her use of Yaz. She seeks compensation for a number of claims including negligence, breach of implied and express warranties, strict liability, and others.
Yaz gallbladder complications can be serious
Women who have gallbladder issues after taking Yaz generally suffer from one of the following two complications: gallbladder inflammation and gallstones. Gallbladder inflammation results in fever, nausea, and abdominal pain. Gallstones form inside the bladder and are known to cause cramping, jaundice (yellowing of the skin), and abdominal pain. If left untreated, these symptoms can result in serious complications and perhaps even death.
Follow the link for additional information regarding Yaz and its reported issues.
[SmartLink yazlawsuit]