Zimmer Durom Cup Complications Spark California Lawsuit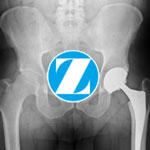 On November 2, 2012, a new Zimmer hip lawsuit was filed by California resident Margaret Dayne in the U.S. District Court, Central District of California, in Los Angeles.
The plaintiff states that she was implanted with the Zimmer Durom Cup on October 24, 2007 and subsequently experienced serious injuries as a result of the device. She brings counts of failure to warn, breach of warranties, negligent and intentional misrepresentation, unjust enrichment, negligence, constructive fraud, and manufacturing and design defect. In addition, her husband claims loss of consortium. She seeks to hold Zimmer, Inc. liable for compensatory, punitive, economic, and non-economic damages, and requests $1 million.
World-renowned orthopedic surgeon alleges high failure rate of Zimmer Durom Cup
According to the lawsuit, the Durom Cup was approved for sale in 2006 and was advertised as a superior solution for patients who were active. However, by 2007, a physician and Zimmer consultant orthopedic surgeon Lawrence Dorr, M.D.—known and respected worldwide—noted that the device was subject to a high percentage of failures. In fact, Dr. Dorr reported an 18.5% rate of failure at follow-up in a select segment of patients.
The company ignored Dr. Dorr when he informed them of his findings and in April 2008, he warned other surgeons as to the rate of failure by authoring a memo to the American Association of Hip and Knee Surgeons. Zimmer chose to suspend sales of the device in July of 2008, but re-released the product a month later and said they found no defects, blaming problems with the Zimmer hip replacement on surgical mistakes.
Metallosis and pseudotumors among side effects suffered by plaintiff
This debate was occurring when plaintiff Dayne was implanted with the Zimmer Durom Cup. As a result, she alleges that Zimmer knew of the risks and should have warned her and her physician of the issues.
Prior to her surgery, she claims that she engaged in an active lifestyle in spite of having been diagnosed with osteoarthritis. She claims that the marketing efforts on the part of Zimmer led her to and her physician to think that the Zimmer Durom Cup was the appropriate device to fit her lifestyle and needs. It was meant to give her better stability and range of motion as opposed to other hips that were available. She hoped the Zimmer device would improve her quality of life.
Following the implant, Dayne experienced pain and had trouble walking without assistance. She alleges that the metal-on-metal device caused metallosis and pseudotumors.
She underwent revision surgery on February 1, 2012.
[SmartLink zimmerhiplawsuit]