Zimmer FullCoat Hip Center of Lawsuit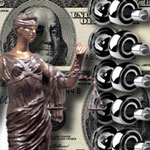 A Nevada man chose to file a Zimmer hip lawsuit against Zimmer Orthopedics on the 15th of August, 2012, after experiencing complications related to his use of the Zimmer FullCoat hip replacement device. James Milligan initially filed his case in the Second Judicial District Court of Washoe County, Nevada, but it was eventually moved by the defendants to federal court in October of 2012. It is currently proceeding in the United States' District Court for the District of Nevada and Milligan is seeking compensation that would cover past and future medical expenses, general damages, and loss of income, in addition to the cost of his lawsuit.
Plaintiff claims hip complications
Milligan claims in his lawsuit that he underwent hip replacement sugary on January 12, 2009, at which point he was implanted with the Zimmer FullCoat hip replacement system with a size 13 stem and a Trilogy cup 64. He states that soon after his surgery, he began to experience significant pain that impacted his daily life. On the 29th of September, 2011, he received an X-ray, which showed that the Zimmer FullCoat stem had actually broken. As a result, he was forced to undergo Zimmer hip surgery once again to remove and replace the broken implant.
Although it is not clear whether or not other patients have had a problem with the FullCoat system, Zimmer lawsuits are nothing new. Dozens of patients who have experienced hip failure after being implanted with a Zimmer hip replacement device have chosen to take legal action in order to gain compensation that could help cover their injury-related costs. Most, like Milligan, claim that their hip replacement system was defective and unsafe.
Other companies recall components
Other companies who have manufactured and marketed hip replacement devices similar to the Zimmer FullCoat have ended up defending themselves against litigation after patients experienced complications from their devices. Some have recalled their hip replacement systems after patients complained of failure and other complications.
[SmartLink zimmerhiplawsuit]