Zimmer Knee MDL Grows in New York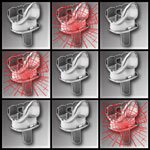 Illinois resident John M. Paczokowski has become one of the most recent plaintiffs to join multidistrict litigation in New York after experiencing problems with a Zimmer knee replacement device. The plaintiff is seeking compensation based on claims he is making of strict liability, negligence, and breach of express and implied warranties against defendants Zimmer, Inc. His lawsuit joins a number of other similar ones that are currently proceeding in the United States' District Court for the Eastern District of New York.
Plaintiff claims failure led to pain
Plaintiff Paczokowski claims that he was implanted with the Zimmer NexGen CR-Flex knee replacement device on the 4th of June, 2009. He says that he experienced symptoms of Zimmer knee complications, which can include pain, stiffness, and difficulty moving the joint. His pain and complications will require him to undergo revision surgery in the future in order to completely remove and replace the knee replacement device. Paczokowski's lawsuit claims that he could not have reasonably found out that his knee replacement system was defective prior to having it implanted because the device manufacturer claimed the device was safe.
The plaintiff's complaint cites data that shows that the defect lies in the design of the NexGen knee itself; it was designed as an upgrade from previous Zimmer knee devices, but comes with serious complications. The NexGen device was designed as a cementless alternative to preceding devices, wherein they carried the risk of polluting ht bloodstream of a patient with cement. However, in some cases, the porous liner of the device that is meant to keep the femur in place fails to properly latch onto the bone. This can cause complications.
Plaintiffs seek compensation
Paczokowski is only one of many plaintiffs who have chosen to go forward with a Zimmer NexGen knee lawsuit after experiencing complications related to the device. Many plaintiffs are seeking settlements from the device manufacturer that would help cover injuries they have suffered.
[SmartLink zimmerkneelawsuit]