Zimmer NexGen Knee Lawsuit Joins MDL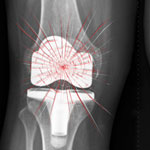 A new lawsuit against Zimmer Orthopaedic Surgical Products alleging Zimmer knee complications was filed on October 3, 2012 in the U.S. District Court of Massachusetts (Boston). According to her filing, the plaintiff Diane Elia-Mahoney—a Massachusetts resident—claims that the company's NexGen knee device was defective.
In June of 2007, plaintiff Elia-Mahoney was implanted with the Zimmer NexGen knee device. She claims that she endured severe discomfort and loosening of the implant and required revision surgeries because of complications with the implant.
She claims to have suffered from personal and economic injuries and is suing for breach of express warranty, defective design, negligence, failure to warn, and strict liability.
Elia-Mahoney is seeking damages for economic loss, emotional distress, punitive damages, and compensation for pain and suffering.
Massachusetts plaintiff adopts short form complaint to join NexGen MDL
The plaintiff has adopted the short form complaint in order to join MDL 2272 where Zimmer knee lawyers are pursuing compensation for plaintiffs who have been damaged by the NexGen device. The MDL is known as the Zimmer NexGen Knee Implant Products Liability Litigation. Plaintiff Elia-Mahoney filed the short form complaint as approved by order of the MDL 2272 Court. This adopts by reference allegations in the plaintiffs' Master Long Form Complaint as well as all amendments contained.
No full recall of Zimmer NexGen has been implemented
Two Zimmer knee replacement joints are the main focus of the Master Long Form Complaint—"High Flex" or "Flex" knees, along with the MIS Stemmed Tibial Components.
It is alleged that both of these designs are defective and have a high rate of failure, causing injuries to the plaintiffs who are part of this MDL.
There has yet to be a recall of the NexGen device, but Zimmer implemented a 2010 partial recall of the NexGen MIS Tibial components and on particular femoral components of the Zimmer NexGen LPS.
[SmartLink zimmerkneelawsuit]