Zimmer NexGen Knee MDL Adds Another Lawsuit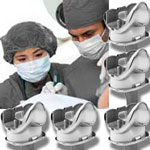 A new lawsuit has been added to the Zimmer NexGen Knee multidistrict litigation in Illinois. The plaintiff, Pamela Taylor, initially filed her lawsuit on November 1, 2012 in the U.S. District Court, Eastern District of Washington (Spokane), alleging that she required revision surgery after suffering complications from the Zimmer NexGen GSF CR-Flex device. She has since adopted the short form complaint to add her case to the MDL in the Northern District of Illinois.
Plaintiff required revision surgery less than two years after receiving knee implant
According to the Zimmer knee lawsuit, Taylor was implanted with the NexGen implant in her left knee on July 27, 2009, and in her right knee on October 27 of the same year. Less than two years later, in January 2011, she experienced complications that forced her to undergo revision surgery on her left knee.
Her lawsuit bring claims against Zimmer Orthopaedic Surgical Products of failure to warn, negligence, design defect, breach of express warranty, and misrepresentation. Taylor seeks compensatory damages for pain and suffering, emotional distress, and economic loss, as well as punitive damages.
Recall issued for certain NexGen components
In September 2010, a recall was issued for certain NexGen MIS Tibial components, but to date, there has been no full Zimmer knee recall of the NexGen in its entirety.
The American Academy of Orthopedic Surgeons recently published a report that found that out of 108 patients implanted with the NexGen knee, 8.3 percent had complications that required revision surgery.
Zimmer NexGen MDL has grown to more than 100 lawsuits
The Zimmer NexGen MDL was established in August 2011 with 73 lawsuits; since then, the number of lawsuits consolidated in the MCL has grown to more than 100. The MDL consolidates litigation involving the Zimmer NexGen knee in order to make the judicial process quicker and more efficient by combining pretrial proceedings and discovery and avoiding the potential for conflicting rulings.
Lawsuits involving the NexGen knee typically allege that the implant has caused severe complications such as pain, immobility, dislocation, implant loosening, failure of the implant to adhere properly with the patient's bone, and metal poisoning.
[SmartLink zimmerkneelawsuit]