Actos Lawsuit Claims Cancer Injuries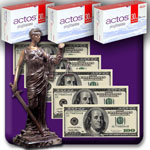 Anthony Yario joined Actos litigation on November 13, 2012, after filing his side effects lawsuit against drug maker Takeda Pharmaceuticals, et al. and Eli Lilly and Company. Yario, a Wisconsin resident, filed his lawsuit in the Circuit Court of Cook County, Illinois. His lawsuit claims that he developed cancer as a result of his use of the type II diabetes medication, and is charging the defendant drug makers with failure to warn, strict liability, and inadequate testing of the product.
Actos cancer most serious side effect
Actos was first approved for sale in the United States in 1999 by the Food and Drug Administration. However, it soon became clear that patients who were prescribed the medication and used it for an extended period of time had an increased risk of developing bladder cancer; plaintiff Yario claims that he suffers from bladder cancer as a result of his use of the diabetes treatment medication. He says that drug maker Takeda knew of the potential risk associated with their product, but concealed this risk from the medical community and the public as a whole.
Yario's lawsuit claims that the defendants knew or should have known about the serious risks associated with taking Actos for a long period of time. A number of studies are cited in his suit, including one that was conducted on rats and another, the PROactive three-year study, that was intended to examine cardiovascular events but instead uncovered a statistically significant increase in the risk of bladder cancer associated with the use of Actos. This study showed that patients taking Actos were at a higher risk of developing bladder cancer than were patients who had been using other, similar medications.
Damages sought in suit
Yario claims that because he experienced bladder cancer from Actos, he now suffers from a number of injuries and has to deal with the pain and suffering caused by his condition. He claims in his suit that the defendants engaged in careless and negligent acts and is charging them with failure to warn, misrepresentation of the product's safety, and failure to take proper safety precautions. He is seeking compensation for his injuries and the financial costs associated with them, including medical bills and lost wages.
[SmartLink actoslawsuit]