Bladder Cancer Warning Came Too Late for Actos Plaintiff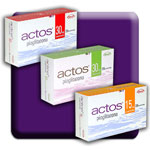 In a new lawsuit, a man who developed bladder cancer from Actos states that he had been taking the diabetes drug for more than six years before the FDA finally issued a public warning that Actos could cause bladder cancer. One month after that FDA warning was issued, the plaintiff himself was diagnosed with bladder cancer.
The plaintiff, Texas resident Jeffrey Zurio, filed his lawsuit in the Circuit Court of Cooks County, Illinois. He brings allegations of negligence and strict liability against Actos manufacturer Takeda Pharmaceuticals, stating that he never would have taken Actos if the company had properly warned consumers of the drug's dangerous side effects. He seeks in excess of $50,000 in damages for his injuries.
FDA warned of Actos bladder cancer in 2011
According to Zurio's complaint, he began taking Actos to treat his Type II diabetes on November 20, 2004 on the prescription of his doctor. In June 2011, the FDA issued a public warning that use of Actos for more than one year increases the risk of bladder cancer. At that time, Zurio had already been taking Actos for more than six and a half years. One month later, on July 5, 2011, he was diagnosed with bladder cancer. He did not hear about the FDA warning right away, and so continued taking Actos for several months after his diagnosis, eventually discontinuing its use on April 30, 2012 when he finally learned about the connection between Actos use and bladder cancer.
Takeda concealed information about Actos risks, lawsuit alleges
Zurio's Actos attorney alleges that Takeda was aware of the link between Actos and bladder cancer, but willfully concealed it. As evidence, the lawsuit makes reference to a three-year PROactive study that was published in 2005. The goal of the study was to examine the effect of Actos on cardiovascular outcomes. But over the course of the study, researchers unexpectedly found that Actos users developed bladder cancer at a much higher rate than patients taking other diabetes medications. Yet Takeda did not inform the public or the medical community of these findings. Because the company failed to warn about the risks of Actos, the plaintiff has suffered permanent injuries and requires ongoing medical care and treatment, the lawsuit charges.
Hundreds of other plaintiffs have filed similar lawsuits against Takeda, claiming they developed bladder cancer from Actos. On December 29, 2011, the U.S. Judicial Panel on Multidistrict Litigation established an Actos MDL to consolidate federal lawsuits involving Actos in the U.S. District Court for the Western District of Louisiana.
[SmartLink actoslawsuit]