Chantix Lawsuits Claim Depression, Suicide Attempts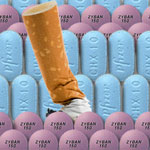 The smoking cessation drug Chantix was first introduced to the United States' market in 2006, when it was highly lauded for being a simple and effective way to help patients quit smoking. Many smokers found that Chantix helped them to break the unhealthy habit, but it wasn't long before many patients began to report serious adverse side effects after taking the drug. These side effects have resulted in a multitude of Chantix lawsuits being filed across the country by patients who have been affected by depression, suicidal thoughts, and other side effects related to the drug.
Chantix suicide
Depression and suicidal thoughts are among the most common–and most concerning–side effects of Chantix. Chantix works to help curb nicotine cravings by blocking the receptors that are affected by nicotine in the brain; researchers are not sure why exactly this might lead to depression and suicidal thoughts, but there does seem to be a connection between Chantix use and psychological problems such as changes in behavior, depression, and mood swings. More than 300 reports of depression and suicidal behavior were reported to the Food and Drug Administration in one 18-month period.
The Food and Drug Administration issued a black box warning regarding potential Chantix side effects in 2009. This is the strictest warning the agency can require a product to carry, and means that the side effects the drug has been linked to are very serious. In fact, in some cases, Chantix-related side effects can be deadly. The Food and Drug Administration has received more than a hundred reports of patients who have committed suicide allegedly as a result of their Chantix use.
Lawsuits filed across the country
Patients who have been affected by the side effects of Chantix often choose to file suit against drug maker Pfizer, claiming that they did not adequately warn consumers about the risks of their product when they placed it on the market. These plaintiffs are hoping to receive compensation for their injuries; this compensation could help cover damages from lost wages to medical bills. The side effects of Chantix are serious and patients with questions may want to contact an experienced Chantix lawyer.