DePuy Device Recall Leads to Suit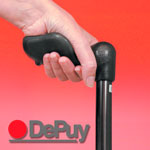 A California woman has filed suit against DePuy Orthopedics, the manufacturer of a hip replacement device that was recalled on the 24th of August, 2010, after dozens of patients complained of complications resulting from the implant. Josephine Langhammer filed her lawsuit on November 21, 2012, in the Superior Court of Los Angeles County, California. She is seeking financial compensation for the side effects she claims she has endured after being implanted with the controversial hip replacement system.
Plaintiff names numerous hip complications
According to the plaintiff's DePuy hip lawsuit, she underwent a total hip replacement surgery on September 30, 2005. After experiencing pain and other complications for a number of years, she finally heard the news of the DePuy hip recall in 2010, giving her a reasonable explanation for the bodily impairment, debilitating lack of mobility, and high levels of toxic metal in her bloodstream. Since then, she has contacted a personal injury lawyer who has helped her file suit against the device manufacturer.
Langhammer, in a claim similar to those made in many other DePuy hip lawsuits, says that the device manufacturer deliberately hid information about the safety of their product for many years, so that hundreds of patients who had been implanted with the devices were at risk for potential complications. Many of these patients did not know of the risk of complication associated with their ASR or Pinnacle hip replacement system until it was too late. Langhammer is seeking compensation after bringing twelve causes of action against DePuy. She is charging them with negligence, strict liability, breach of implied and express warranties, fraudulent concealment, and other charges.
Pinnacle suits consolidated
Many of the lawsuits filed by victims of complications related to the Pinnacle hip replacement device had been consolidated in a multidistrict litigation case in the Northern District of Texas. Although not every DePuy lawsuit is included in this consolidation, it will help to speed up the litigation process by combining cases with similar complaints.
[SmartLink depuyhiplawsuit]