Florida Grandmother Files Zoloft Suit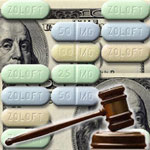 A grandmother filed a Zoloft lawsuit on November 28, 2012, in the United States' District Court for the Northern District of Florida (Pensacola). The plaintiff claims that her daughter ingested the SSRI drug during her pregnancy, which caused her grandchild to suffer from serious heart defects–the plaintiff says that the drug makers did not adequately warn her daughter or physician about the potential side effects related to the popular antidepressant if taken during pregnancy. She is seeking compensation for the injuries sustained by her grandchild.
Severe birth defects possible with Zoloft
According to the grandmother's lawsuit, the birth mother took Zoloft under her doctor's supervision throughout her entire pregnancy. The psychological drug is a popular one that is used in the treatment of depression, general anxiety disorder, obsessive compulsive disoder, and post traumatic stress disorder. The plaintiff's grandchild was born on the 28th of November, 2008, and was immediately placed in intensive care as a result of being born with Supraventricular Tachycardia, a condition which required constant monitoring. The infant, according to the lawsuit, was also born with congenital Zoloft clubfoot that required a number of operations and castings in order to fix the malformation in the earlier months of her life.
The lawsuit states that the child and her family have suffered both physically and emotionally from the birth defects that the infant was born with, which the lawsuit claims were caused directly by the mother's use of Zoloft during her pregnancy. The child has allegedly been deprived of a normal and healthy childhood because of these serious side effects, the lawsuit goes on to state. The family is seeking compensation that would help cover medical bills and other costs related to the child's injuries.
Lawsuits seek to cover costs
Like many plaintiffs involved in a lawsuit against drug maker Pfizer, the Florida grandmother filed with the help of a Zoloft lawyer. Many patients whose children were born with Zoloft complications have chosen to file suit against the drug maker in order to win compensation that could help cover the financial costs related to the child's injuries.