Hundreds of Lawsuits Filed Over Life-Threatening Actos Side Effects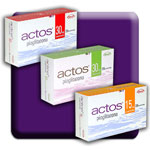 Actos (pioglitazone) is one of the top-selling diabetes drugs in the U.S. Yet the drug has been the subject of hundreds of lawsuits because of its life-threatening side effects, which include bladder cancer, congestive heart failure, and bone fractures. Plaintiffs claim that the drug's manufacturer, Takeda Pharmaceuticals, was aware of the risk of bladder cancer and other Actos side effects, but did not warn doctors or patients about these risks.
[SmartLink actoslawsuit]
Actos and bladder cancer
Bladder cancer is the most well-known of Actos side effects. A number of clinical studies have found that patients who use Actos for more than 12 months have a 40 percent increased risk of developing bladder cancer. (Taking the medication for less than 12 months also increases the bladder cancer risk, but to a lesser extent.) Most Actos lawsuits involve plaintiffs who took the medication for several years. Symptoms of bladder cancer include painful or frequent urination and blood in the urine.
On June 15, 2011, the FDA issued a public safety warning stating that "use of the diabetes medication Actos (pioglitazone) for more than one year may be associated with an increased risk of bladder cancer." Because of the link between Actos and bladder cancer, the drug has been recalled in France and Germany. But there has been no U.S. recall of Actos.
Other Actos side effects
Actos is in a category of medications called thiazolidinediones. The Actos label warns that thiazolidinediones can cause or worsen congestive heart failure in some patients. Symptoms of congestive heart failure include chest pain, nausea, difficulty breathing, edema (excess fluid in the tissues causing swelling), irregular heartbeat, excessive fatigue, swollen abdomen or liver, and problems with sleeping.
Bone fracture is another side effect of Actos. A 2008 Swiss study found that diabetes patients who take Actos or other thiazolidinedione (TZD) drugs have two to three times the risk of suffering a bone fracture as those taking non-TZD diabetes medications.
Plaintiffs who have filed an Actos lawsuit seek to recover damages for their pain and suffering and hope that the drug will be recalled in the U.S. so that future patients will not have to suffer from dangerous Actos side effects.