Lawsuit Alleging Severe Bleeding From Pradaxa Joins Illinois MDL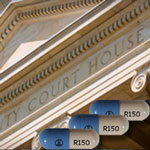 A lawsuit alleging Pradaxa side effects filed on October 12, 2012, by Ethel Mae Jackson has joined the multidistrict litigation (MDL) in the U.S. District Court for the Southern District of Illinois. According to the complaint filed by a Pradaxa lawyer, the plaintiff asserts that manufacturer of Pradaxa, Boehringer Ingelheim Pharmaceuticals, distributed a drug that was defective and that her use of it caused her severe internal bleeding.
Jackson states that if she had been aware of the risks of taking Pradaxa, she wouldn't have chosen to do so. She seeks damages for medical expenses, punitive damages, and other costs. Causes of action listed are design defect, fraudulent concealment, negligence, and failure to warn. She requests damages for past, present and future medical treatment, diminished quality of life, mental anguish, and physical pain.
The lawsuit claims that the blood thinning medication made her injuries worse because it prevented her body from acting to stop the bleeding.
Severe gastrointestinal bleeding from Pradaxa hospitalizes plaintiff
Jackson received a prescription for Pradaxa from her doctor in April 2011. A month after that, she spent several weeks in the hospital due to severe gastrointestinal bleeding. To recover from the uncontrolled bleeding, she received blood transfusions. She subsequently spent several months in a rehabilitation center.
Her lawsuit accused Boehringer Ingelheim of using deceptive marketing tactics because they failed to disclose the dangers associated with the medication. There was no sufficient warning given to the medical community or patients informing them that no treatment was available to control excessive bleeding should it occur. Court documents indicate that the Pradaxa packaging didn't have a guide alerting patients as to the possible permanent, debilitating and even fatal side effects.
Pradaxa marketed as superior to other blood thinning medications
Pradaxa is also known as dabigatran etexilate. It is a blood thinning medication intended to lower the risk of stroke in patients suffering from atrial fibrillation. Approved on October 19, 2010 by the FDA, it was initially marketed to be a valid alternative to a decades-old blood thinner, warfarin.
When warfarin was used, patients had to adhere to dietary restrictions and have their blood levels monitored. Pradaxa's marketing suggested that it was more effective at preventing strokes. The manufacturer also asserted that the drug was more convenient to use because it didn't require a diet plan or for the patients to have their blood monitored.
Adverse reports of Pradaxa side effects pour into the FDA
An article entitled "Dabigatran: Uncharted Waters and Potential Harms," published in the Annals of Internal Medicine stated that most reports submitted to the FDA alleging side effects involved severe bleeding and blood clots in elderly people. It also said that different patients reacted differently to the drug depending on their underlying heart problems, sex, age, and weight. These variables were a determinative factor in the patients' responses to the drug, but the manufacturer didn't provide a warning regarding this.
Six months after the approval was granted by the FDA, the agency received over 500 reports of patients hemorrhaging after using Pradaxa. At least 120 suffered Pradaxa related deaths.
Throughout 2011 and 2012, the number of adverse events reported to the FDA rose. The reported side effects included: joint inflammation, bloody stools or urine, rectal hemorrhage, cerebral hemorrhage, and gastrointestinal bleeding.
In December of 2011, the FDA began an investigation into the connection between Pradaxa and severe bleeding incidents in patients using the medication.