Louisiana Plaintiff Joins Illinois Pradaxa MDL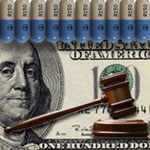 On November 8, 2012, Louisiana resident Mary Weeks chose to file a Pradaxa lawsuit against manufacturer Boehringer Ingelheim Pharmaceuticals alleging that she suffered from serious injuries after taking the anticoagulant medication.
The case joins similar filings that have been consolidated into multidistrict litigation (MDL) located in the U.S. District Court, Southern District of Illinois.
In addition to serious injuries, Weeks claims that the medication is defective in its design, wasn't adequately tested, and didn't come with a sufficient warning concerning the risks undertaken by those who took it. She brings counts of strict liability and negligence and requests in excess of $75,000 in damages.
Plaintiff states manufacturer should recall Pradaxa
Weeks claims that the manufacturer should recall the medication due to side effects resulting from Pradaxa use. According to her case, an analysis by the Food and Drug Administration (FDA) indicates that life-threatening internal bleeding has occurred at a higher rate than the systemic embolisms and strokes the drug is designed to prevent, implying that the drug is risky and provides no benefit.
A recall is in order, according to the plaintiff, because the drug is meant to defend a patient against strokes and embolisms when they take it to treat atrial fibrillation and it puts them in danger of death and injury.
It states in her filing that the defendants "should withdraw Pradaxa from the market."
Despite the allegations and lawsuits against Pradaxa, a recall has yet to be implemented by the manufacturer.
Pradaxa has no known antidote to stop internal bleeding
Weeks began taking Pradaxa to treat her non-valvular atrial fibrillation and suffered from internal bleeding. She asserts that, at the time she was using Pradaxa, the risk of life-threatening bleeding and possible death was concealed by Boehringer Ingelheim.
In addition, she claims that the manufacturers didn't tell doctors how to intervene and stabilize a patient suffering from internal bleeding. The medication for which Pradaxa is marketed as superior, Warfarin, has a known antidote to stop internal bleeding—doses of vitamin K; Pradaxa, on the other hand, has no known antidote heightening its danger. As a result of uncontrolled bleeding, the medication has been connected to over 250 deaths.
Lawsuit claims label change of Pradaxa still inadequate
The lawsuit also alleges that a modest label change was made to Pradaxa only in January of 2012 after thousands of users had suffered from injury or death. The label noted that there is no particular reversal agent for bleeding from the drug, but that information was buried in small print on pages five and six of the label.
Because the drug still lacks a "black box" warning to alert patients and doctors of the potential for sudden and irreversible bleeding occurrences, the current warning is still insufficient. She states that, "The defendants have failed and continue to fail in their duties to warn and protect the consuming public, including the plaintiff herein."
[SmartLink pradaxalawsuit]