Minnesota Man's Chantix Suit Joins MDL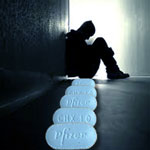 Minnesota resident Russell Weber filed his Chantix lawsuit against drug maker Pfizer on October 17, 2012, in the United States' District Court for the Northern District of Alabama (Southern Division). The plaintiff, who adopted the Master Short Form Complaint, filed his lawsuit in Alabama instead of in his home state in order to take part in the ongoing multidistrict litigation case which currently consolidates the pretrial processes of several Chantix-related lawsuits in order to help make the legal process move more quickly.
Psychological side effects
Plaintiff Weber claims in his lawsuit that he began taking the smoking cessation drug Chantix in October of 2008. Allegedly, his use of the medication caused him to suffer from aggression, paranoia, vivid dreams, and anxiety. These are side effects commonly cited by plaintiffs in Chantix lawsuits, along with Chantix attempted suicide and suicidal ideation. Researchers believe that Chantix can cause such dramatic psychological side effects because it blocks the activation of dopamine in the brain. Dopamine is a chemical that contributes to an addiction to smoking, but also helps to prevent depression and other serious mental health problems; it is a 'feel-good' chemical that provides happy feelings to the brain.
The Food and Drug Administration required Pfizer to place a black-box warning on Chantix because of the high rates of suicide and other serious risks associated with it. During one 18-month period, the Food and Drug Administration received nearly 300 reports of Chantix suicide and depression; this was part of their reasoning behind the issuing of their black-box warning, which is the most serious warning the FDA can give to a product short of a mandatory recall.
Chantix serious side effects
Patients who have experienced some of the psychological side effects of Chantix, especially depression and suicide ideation, may choose to file suit against drug maker Pfizer. These lawsuits are filed in an effort to receive compensation, money that could help cover the medical bills, lost wages, and other costs of a patient affected by Chantix-related side effects.