Oklahoma Woman Sues Bayer Over Yaz Deep Vein Thrombosis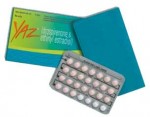 The latest plaintiff to file a Yaz lawsuit is Angela Cobb of Oklahoma, who alleges that she developed deep vein thrombosis (DVT) from the contraceptive Yasmin. Cobb filed her complaint on November 28, 2012 in the U.S. District Court, Southern District of Illinois, where it joined the Yaz MDL proceeding there under the Honorable David J. Herndon.
Plaintiff diagnosed with DVT after taking Yasmin only two months
According to her lawsuit, Cobb developed DVT after only two months of taking Yasmin. She began taking the oral contraceptive in October 2002. In early December, she was diagnosed with deep vein thrombosis in her left thigh and calf, and discontinued taking Yasmin that same month. Since then, Cobb allegedly has suffered chronic DVT in that part of her body, even though she was on Yasmin for only two months and stopped taking it a decade ago.
Cobb's lawsuit further notes that the FDA has sent warning letters to Bayer, the manufacturer of Yasmin and its successor Yaz, stating that the drug company failed to clearly warn the public about the contraceptives' risks.
Cobb is seeking damages in excess of $75,000 as compensation for pain and suffering, medical bills, and lost wages.
Yaz blood clots and deep vein thrombosis
Deep vein thrombosis is a blood clot that forms in a vein, most commonly in the lower left leg. It occurs most often in women over 60 and can lead to dangerous complications such as pulmonary embolism and blocked circulation.
An FDA-commissioned study of 835,000 women found that Yaz and Yasmin greatly increase the risk of developing blood clots. After the study's findings were revealed, an FDA advisory panel held a conference and debate to decide whether to pull the contraceptives off the market. The advisory panel ultimately voted to keep Yaz on the market, but to strengthen the warning on the label about blood clots. Click here for more about about Yaz blood clots.
Thousands of women have filed lawsuits alleging side effects caused by Yaz or Yasmin. Close to 3,500 of these lawsuits have resulted in settlements. To date, Bayer has paid out approximately $750 million in settlements involving Yaz, and many more lawsuits are still pending.
[SmartLink yazlawsuit]