Stryker Battles Hip Replacement Problems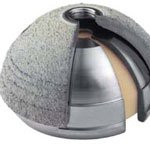 Stryker Orthopedics has recalled two of its leading artificial hip replacement systems after dozens of patients who had been implanted with the devices notified the company and the Food and Drug Administrations about complications they were experiencing as a result of these implants. The Rejuvenate and Trident hip replacement systems were recalled by the orthopedics manufacturer because of problems that involves device corrosion, pain, swelling, bone fractures, and an excessive need for revision surgery.
Problems with Stryker systems
Patients who have been affected by complications related to their Stryker hip implants have reported a number of symptoms stemming from problems with the joint replacement system: device corrosion, inflammation, bone fractures, implant failure, popping and squeaking noises, and uneven bone wear have all been linked to the devices, and many patients have experienced a premature need for revision surgery after being implanted with the devices in question. Revision surgery is a second surgery, often with additional risks, that is intended to remove and replace the affected device. Stryker voluntarily recalled the Trident Hemispherical cups and Acetabular PSL cups in 2008 for the components manufactured in the company's facility located in Cork, Ireland.
The Rejuvenate hip replacement system has also been linked to a condition known as metallosis, which manifests when fragments of metal grate off of the device's components and make their way into the bloodstream of the patient. This can cause complications such as chronic pain, pseudo-tumors, chromosomal aberrations, DNA changes, dissolution of the bone, and limited mobility. The Rejuvenate and ABG II modular neck devices were pulled from the market voluntarily by Stryker in July of 2012.
Stryker hip lawsuits
Some patients have chosen to file a Stryker hip replacement lawsuit after learning of problems associated with the Stryker devices and their subsequent recall. These patients have sought the help of personal injury lawyers and are seeking compensation for Stryker injuries and the costs thereof, including medical bills and any lost wages incurred if a patient was forced to take time off of work.
[SmartLink strykerhiplawsuit]