Zimmer Hip Failure Leads Utah Couple to File Suit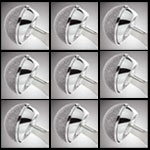 Alleging complications from the Zimmer hip replacement, Diane and Mark Mott filed a new lawsuit against Zimmer, Inc. on November 27, 2012 in the U.S. District Court for the District of Utah (Central Division). There is a possibility that the case will be shifted to the ongoing multidistrict litigation (MDL) located in New Jersey Federal Court.
Diane Mott received a total left hip arthroplasty on August 6, 2007. This included the Zimmer Hip Replacement System and Durom Cup. It was discovered in 2012 that the Durom Cup was loose and the implant was judged to be defective. Mott required revision surgery and had the device removed on November 5, 2012.
Plaintiffs request in excess of $75,000
Like all Zimmer hip lawsuits, the plaintiffs request compensation for Diane Mott's injuries. They bring counts of negligence, breach of express and implied warranties, failure to warn, and design and manufacturing defect. Mark Mott claims loss of consortium. The couple requests special, general, punitive and exemplary damages in excess of $75,000.
Zimmer responsible for manufacture, design, marketing and sale of Durom Cup
A ball-and-socket joint, the hip has a ball portion of the hip joint—known as the femoral head—that fits into the socket of the hip bone, also known as the pelvis. When a patient receives a hip arthroplasty (also known as a total hip replacement), a cup-like shell is implanted into the patient's hip socket. Also, the top of the femur including the hip joint "ball" is taken out and replaced by a prosthetic femoral stem and ball. It is meant to fit into the acetabular cup securely and move with relative ease. Within the artificial socket, there should be no friction or pain.
Zimmer, Inc. is responsible for the Zimmer Matasul Durom Acetabular Component, also referred to as the "Durom Cup," and its manufacture, design, marketing and sale.
Durom Cup prone to unprecedented failure rate, lawyer claims
The Durom Cup is the cup that forms the socket of the joint—the acetabular component of a total hip replacement. Unlike other devices, this is not screwed or cemented into place when it is surgically implanted. Instead, it is designed to bond naturally to the patient's bone. The intention is that the patient's bone will grow into the exterior shell of the cup and will hold the cup in place. It is meant to provide the patient with a natural and more comfortable hip implant.
The attorney representing the plaintiffs states that the Durom Cup is prone to an failure rate that is unprecedented and, rather than functioning in the manner intended, it has major flaws in its design that include loosening that can cause the implant to pop free from the hip; premature wear; and undue incidents of friction.