Zimmer Knee MDL Adds New NexGen Lawsuit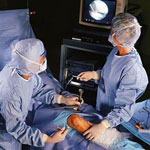 The Zimmer NexGen MDL in the U.S. District Court for the Eastern District of Louisiana added a new Zimmer knee replacement lawsuit on November 27, 2012. The plaintiff, Cynthia Souza of Rhode Island, alleges that she suffered injuries from a defective NexGen knee implant.
Implant failed after only two years
According to the lawsuit, Souza was implanted with a NexGen Flex knee replacement on August 24, 2009. Soon after her surgery, she began to suffer chronic pain that became so severe that she was forced to undergo revision surgery on June 17, 2011, less than two years after being implanted with the NexGen device.
Souza's complaint brings counts of negligence, breach of express and implied warranty, and strict liability for design defects, alleging that Zimmer failed to adequately warn patients and doctors of the NexGen's design defects and risks associated with its use. In addition, the lawsuit claims that medical findings and adverse event reports from patients show that the NexGen flex is not suitable for its intended purpose and poses a danger to patients.
NexGen approved without clinical trials
The NexGen Flex was approved under the FDA's 510(k) approval process, a fast-track process that does not require clinical trials to prove a product is safe before being approved. Therefore, it did not undergo safety testing before being put on the market and implanted in unsuspecting patients.
Many patients implanted with the NexGen have experienced Zimmer knee failure and complications, including chronic pain, immobility, bone loss, tissue damage, and implant dislocation. Although the implants were intended to last 15 years, thousands of patients experienced Zimmer knee failure and were forced to undergo revision surgery within two to three years. In fact, a study published in the Journal of Bone & Surgery in 2007 found that 21% of NexGen implants failed within two years, and 38% failed within three years.
In 2010, the New York Times reported that since 2006, several doctors had tried to tell Zimmer that NexGen implants were failing prematurely and causing patients serious complications, but Zimmer refused to concede that the NexGen was defective and instead blamed the doctors, claiming they had used incorrect technique during surgery.
[SmartLink zimmerkneelawsuit]