Alabama Pradaxa Patient Files Bleeding Lawsuit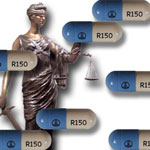 Dixie Comer, an Alabama woman, has filed a lawsuit against drug maker Boehringer Ingelheim Pharmaceuticals after allegedly experiencing some of the severe side effects of the anticoagulant drug Pradaxa. The plaintiff filed her lawsuit in the multidistrict litigation case currently taking place in the United States' District Court for the Southern District of Illinois. The plaintiff claims that she suffered serious injuries after taking the blood thinner and is seeking compensation for these injuries from the drug maker.
Internal bleeding linked to Pradaxa use
Corner's lawsuit claims that she was prescribed Pradaxa for use as a blood thinner in December of 2010. The plaintiff, who is 70 years old, was hospitalized on May 18, 2011, after suffering a severe gastrointestinal bleed. She claims that this excessive and/or uncontrollable internal bleeding was caused by her use of Pradaxa, and says in her Pradaxa lawsuit that she fears developing further complications as a result of her use of the medication.
Corner claims that drug maker Boehringer Ingelheim knew or should have known about the risks associated with Pradaxa, particularly those that could threaten the life of a patient. She also states that had she been aware of the dangers, she never would have taken the drug and instead would have sought out a less risky alternative with which to be treated.
The Food and Drug Administration approved Pradaxa on the 19th of October, 2010, as a medication that could help patients reduce their risk of suffering a stroke. With any blood thinner, there is a risk of excessive internal bleeding–known as hemorrhaging–but there is a major difference between Pradaxa internal bleeding and bleeding related to other blood thinning medications such as warfarin–warfarin-related bleeding can be reversed with injections of vitamin K. There is no such reversal for Pradaxa-related bleeding.
Pradaxa linked to multiple deaths
The Food and Drug Administration has received reports of several deaths linked to Pradaxa use. Plaintiffs like Corner are seeking compensation for their Pradaxa-related injuries, many of which can cause further complications down the line or could even be life-threatening.