Kentucky Mother Sues Pfizer Over Child's Zoloft Birth Defects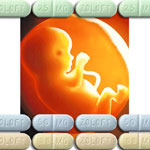 A Kentucky mother has filed a Zoloft birth defects lawsuit against pharmaceutical company Pfizer, alleging that her son's congenital birth defects were caused by her use of the antidepressant Zoloft during her pregnancy. The lawsuit was filed on January 10, 2013 in the U.S. District Court, Eastern District of Pennsylvania (Philadelphia) and names Roerig and Company as a defendant as well as Pfizer.
Zoloft never approved for pregnant women
Zoloft (sertraline) was initially approved by the FDA to treat depression in 1991, and the drug's approval was subsequently expanded to treat OCD and panic disorders. However, the lawsuit states, the FDA never approved Zoloft for use by pregnant women. In spite of this fact, tens of thousands of expectant mothers were prescribed Zoloft, including the Kentucky plaintiff, not knowing that the antidepressant could harm the developing fetus.
The plaintiff was prescribed Zoloft during her pregnancy. Her son was born on February 26, 2007 with severe congenital birth defects including patent ductus arteriosus along with other problems that have yet to be determined. As a result, the child has been forced to undergo life-threatening heart surgery and other risky medical procedures.
Pfizer accused of failure to warn
The Zoloft birth defects lawsuit alleges that prior to 1996, when the plaintiff was prescribed Zoloft, Pfizer knew or should have known that studies had shown that use of SSRI antidepressants like Zoloft while pregnant had caused higher rates of abnormalities, heart malformations and other birth defects, longer hospital stays, lower gestational age and birth rates, and lower APGAR scores when compared to control groups of babies whose mothers did not take SSRI antidepressants during pregnancy. The lawsuit also charges that Pfizer falsely implied that the risks posed by discontinuing Zoloft were much greater than the risks of taking the drug during pregnancy.
The plaintiff alleges that her baby's birth defects were a direct and proximate result of fraudulent misrepresentation and failure to warn on the part of the defendant.
Although there has been no Zoloft recall, it is possible that the drug may be reclassified from a Category C medication (its current designation) to Category D, indicating that there is positive evidence of increased risk of fetal harm when the medication is taken during pregnancy.