Kentucky Plaintiff Files Actos Bladder Cancer Lawsuit in Illinois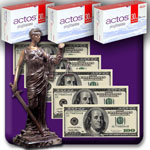 A new Actos bladder cancer lawsuit was filed by Kentucky resident Philip Viniard against manufacturer Takeda Pharmaceuticals in the Circuit Court of Cook County, Illinois, on December 13, 2012. The plaintiff began taking the insulin-sensitizing medication for long-term treatment of his diabetes and one year later, in 2007, he was diagnosed with bladder cancer.
Viniard hopes to recover compensation for emotional distress, physical and mental pain and suffering, and economic losses as a result of ongoing medical expenses. He claims that he was unaware that his bladder cancer diagnosis could be linked to Actos until June 2011 when a warning was issued by the FDA.
He seeks multiple damages and lodges multiple claims against the defendant including failure to warn, negligence, and strict liability.
FDA issues warning of Actos link to bladder cancer
Approved by the FDA to treat type 2 diabetes, Actos (pioglitazone) was released onto the market in 1999. Since it became available, hundreds of reports of patients suffering from bladder cancer after using Actos have surfaced.
A safety communication was issued by the FDA on June 15, 2011, in which consumers were warned that the use of the medication for over one year might be associated with a higher risk of bladder cancer.
Clinical studies have shown that long-term use of Actos (12 months or longer) might increase a person's chances of developing bladder cancer by as much as 40 percent.
[SmartLink actoslawsuit]
Takeda accused of withholding information of dangers of bladder cancer from Actos
The plaintiff's Actos lawyers allege that as early as 2005, the defendant was aware of these risks from the results of a three-year PROactive study, but failed to inform the consuming public and medical community of the findings. Court documents state that the plaintiff has been permanently and severely injured after being prescribed Actos for several years.
Although updated warnings have been issued concerning the connection between Actos and bladder cancer, an increasing number of people are suing Takeda seeking compensation for injuries they claim occurred as a direct result of the medication.
Actos has been pulled from the German and French markets, but is still available in the United States.