Lawsuit Filed on Behalf of Children With Zoloft Birth Defects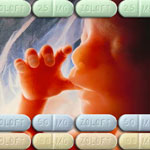 A lawsuit was recently filed against drug company Pfizer on behalf of a number of families whose children were born with Zoloft birth defects. The complaint was filed on November 28, 2012 in Superior Court of the State of California for the County of San Francisco.
[SmartLink zoloftlawsuit]
Minor plaintiffs needed surgery for a multitude of serious defects
The plaintiff mothers in the case all used the SSRI antidepressant Zoloft during their pregnancies. The lawsuit states that as a result of being exposed to Zoloft in utero, the minor plaintiffs were born with serious birth defects including underdeveloped organs, cleft lip, club foot, brain malformation, atrial septal defect, heart valve disorder, and abnormal accumulation of fluid in the brain. Some of the children have required multiple surgeries to treat these conditions, and some of them will require ongoing treatment for the rest of their lives.
Pfizer negligent for failing to warn of drug's risks, lawsuit charges
Companies are required by FDA regulations to warn consumers of any health risks linked to their drugs, if reasonable evidence shows such a risk exists. In the complaint, the Zoloft lawyer argues that Pfizer falsely marketed Zoloft as an antidepressant that was safe for use by pregnant women, even though the company knew or should have known that the drug posed a risk to the developing fetus. The lawsuit notes that early animal studies had found that use of Zoloft during pregnancy was linked to an increased risk of birth defects, and alleges that Pfizer negligently concealed the drug's risks.
If Pfizer had properly warned pregnant women about the risks associated with use of Zoloft during pregnancy, the plaintiff mothers would not have taken the drug, and the minor plaintiffs would not have suffered these birth defects, the Zoloft lawsuit charges.
The plaintiffs seek to recover compensation for damages including pain and suffering, loss of companionship and affection, loss of earning capacity and economic support, and past, present and future medical expenses.