New Lawsuit Joins MDL Alleging DePuy Hip Complications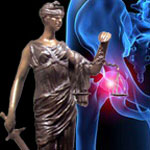 A new lawsuit was filed by a DePuy hip lawyer on behalf of Pennsylvania resident William Goosley on January 8, 2013 in the U.S. District Court for the Northern District of Texas (Dallas).
Goosley had a total hip arthroplasty procedure on September 20, 2006 in which he received a Pinnacle hip device in his left hip. Following surgery, he experienced complications including discomfort in and around the site of the implant and severe pain. His doctor ordered hip aspiration in order to examine the amount of fluid around the implant. It was revealed that the patient had debris-filled, brown fluid that indicated potential metallosis and other issues.
Pennsylvania plaintiff joins MDL No. 2244
Named as defendants are Johnson & Johnson, Inc., Johnson & Johnson Services, Inc., and DePuy Orthopaedics, Inc. The case was later removed to MDL No. 2244 consolidating complaints in federal court.
The plaintiff alleges fraud, breach of express and implied warranty, negligent misrepresentation, design defect, manufacturing defect, failure to warn, and negligence. He requests compensation for physical impairment, medical expenses, past and future loss of earnings and earning capacity, pain and suffering, plus other damages.
Pinnacle Acetabular Cup marketed as the "best surgical option"
DePuy introduced the hip implant device Pinnacle Acetabular Cup System in 2001. This implant was designed and developed to treat patients with vascular necrosis, rheumatoid arthritis, osteoarthritis, damaged or diseased hip due to fracture, and other issues.
The plaintiff's attorney stated that the Pinnacle device was marketed to relieve pain and allow the patient to have a smooth and consistent range of motion. The defendants also stated that the device was better than other hip devices on the market and that it was the best surgical option.
Defendants allegedly aware of problems with the Pinnacle implant
Since the Pinnacle came onto the market, there have been around 150,000 sold. The FDA has received 1,300 adverse event reports with these implant devices. Implant failure and other complications have been reported.
The Pinnacle hip lawsuit asserts that the defendants are aware of the potential problems with the devices including high failure rate, metal poisoning, and biologic toxicity. In addition, they are aware that the metal particles that enter a recipient's bloodstream can lead to pseudotumors, bone erosion and tissue death.
In spite of this information, the manufacturers have yet to implement a recall of the Pinnacle implant to prevent other patients from suffering from the same side effects as the complainant in this case.