New Plaintiffs Join Yaz MDL No. 2100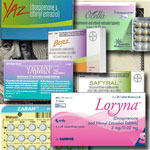 Four plaintiffs have joined the ongoing lawsuit against Bayer, the makers of Yaz and Yasmin, alleging Yaz blood clots and other complications. MDL No. 2100 is located in the Southern District of Illinois and the new plaintiffs all claim that the defendant manufactured and distributed dangerous and defective products while failing to provide sufficient warnings. The plaintiffs joined the MDL on December 27, 2012, and allege that they suffered from serious injuries as a result of using these contraceptive medications.
Lawsuits due to Yaz blood clots join Illinois MDL
Thousands of lawsuits due to blood clots allegedly caused by Yaz have been transferred to federal court to take part in the MDL. MDL is different from a class action lawsuit in that the MDL maintains separation of the cases allowing individual plaintiffs to negotiate settlements on their own while a class action is litigated in one large group.
This federal litigation was consolidated in the Southern District of Illinois and is being overseen by the Honorable Judge David R. Herndon. It is one of the largest caseloads in the nation for MDL.
Bayer settles nearly 3,500 complaints due to Yaz
Bayer has settled nearly 3,500 of the complaints lodged against them by a Yaz lawyer. It has cost them, to date, an estimated $750 million. The lawsuits they're confronted with involve plaintiffs who have suffered from pulmonary embolism (PE) and deep vein thrombosis (DVT). Both are conditions that may be exacerbated by blood clots as a result of Yaz and Yasmin.
Claims by women who took the birth control pills and suffered from blood clot injuries that could have been fatal are having their cases evaluated by attorneys determining whether or not they have a basis to file a claim against Bayer.
Plaintiffs allege Bayer failed to adequately test Yaz
The four women who have joined the MDL come from Florida, Kentucky, Virginia and Utah. All assert that Bayer failed to adequately test the side effects of the birth control medications. Such testing would have revealed that patients using Yaz and Yasmin became more prone to having DVT, PE, heart attacks, gallbladder problems, strokes and other life-threatening issues.
All of these women state that they developed severe injuries following their use of the oral contraceptive medications and their side effects range from PE to DVT to gallbladder complications that made removal of the organ necessary.
[SmartLink yazlawsuit]
Multiple studies show hormone raises risk of blood clots
Yaz, Yasmin and the generic form of the drug Ocella are all formulated with ethinyl estradiol and a new fourth generation progestin known as drospirenone. Drospirenone has been connected to an increase in potassium levels and serious heart problems. It has also been the subject of controversy because multiple studies have shown that birth control pills that have it as an ingredient can raise the risk of blood clots.
The plaintiffs claim that Bayer fraudulently concealed safety information regarding Yaz, which is the only birth control pill currently available that uses this particular hormone.
The women charge Bayer with fraud, negligence, failure to warn, breach of express and implied warranty, strict liability, and fraudulent concealment. Each seeks compensatory and punitive damages in excess of $350,000.