North Carolina Man Files Actos Bladder Cancer Lawsuit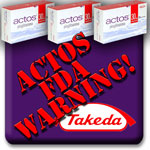 A new Actos bladder cancer lawsuit was filed by plaintiff Dickie Steve Woody in the Circuit Court of Cook County, Illinois on December 28, 2012. The plaintiff states that he developed bladder cancer after taking the diabetes medication Actos.
He alleges that the manufacturer of Actos, Takeda Pharmaceuticals, withheld information of the increased risk of bladder cancer in users of the medication. He seeks damages of a personal and pecuniary nature, in such an amount as the Court deems fair and adequate.
He brings complaints of strict liability and negligence, as well as failure to warn of dangers that were known by the company. The lawsuit also states that Takeda marketed, promoted, created, formulated, developed, manufactured, designed, distributed, and sold the drug while failing to conduct thorough and adequate tests pre-and post-market.
Plaintiff continued taking Actos for over four years after bladder cancer diagnosis
A resident of North Carolina, Woody began using Actos in May of 2003. Nearly five years later, in March of 2008, he was diagnosed with bladder cancer. He continued taking the medication for another four-and-a-half years and stopped in November of 2012.
Woody's Actos lawyer claims that his client has been permanently and severely injured because of his long-term use of the medication, in addition to suffering from pain and suffering of a mental and physical nature. It is also alleged that the plaintiff will continue to suffer from injuries, emotional distress and economic losses in the future. The economic losses stem from the living and medical expenses made necessary by his illness.
Takeda failed to warn of link between Actos and bladder cancer
Actos is a member of the insulin-sensitizing thiazolidinedione drug class and was approved by the Food and Drug Administration (FDA) in July 1999 to treat Type II diabetes. When it was approved, Takeda didn't warn of a potential link between the drug and bladder cancer.
As a result of what has been referred to as the defective nature of the drug, patients who used Actos for over 12 months faced an increased danger of developing bladder cancer.
The 2005 PROactive study, conducted over a three-year period, showed a statistically significant number of people were found to have developed bladder cancer after using Actos in comparison to competing medications.
[SmartLink actoslawsuit]
Actos recall issued in France, but not the United States
Takeda, in spite of research and warnings issued by the FDA, claimed that the study did not show a risk of bladder cancer and therefore refused to warn the public as to the possible risks.
An Actos recall was issued by Takeda Limited in France in July of 2011, but they did not issue a similar recall in the United States. The lawsuit states that because of their failure to recall the drug, Takeda continued to put American citizens at risk of developing bladder cancer simultaneous to ensuring that citizens of France were no longer at risk.