Oregon Lawsuit Claims Birth Defects From Zoloft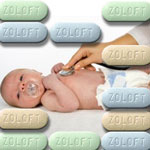 An Oregon mother who took the SSRI antidepressant Zoloft (sertraline) during her pregnancy and subsequently gave birth to a daughter with serious Zoloft birth defects has sued Pfizer, charging that the pharmaceutical company did not warn patients or doctors about the risk of Zoloft birth defects. The mother's lawsuit was filed on December 5, 2012 in the U.S. District Court, District of Oregon (Eugene), but it potentially could be transferred to the Zoloft MDL in the U.S. District Court for the Eastern District of Pennsylvania.
[SmartLink zoloftlawsuit]
Baby needed multiple surgeries
According to the Zoloft lawsuit, the plaintiff mother started taking Zoloft in 2004. When she became pregnant, she was told that Zoloft was safe to take during pregnancy, and so continued using it throughout her pregnancy. Subsequently, she gave birth to a daughter with serious congenital birth defects including atrial septal defect, congenital atresia and stenosis of the large intestine and rectum. The child has been forced to undergo multiple surgeries, including a double barrel transverse colostomy, and will require specialized care, physical therapy, hospital visits, and medical treatments for the rest of her life.
The plaintiff brings multiple counts against Pfizer including failure to warn, negligence, product liability – design defect, manufacturing defect, and breach of express warranty. She is seeking punitive damages for Pfizer's alleged "conscious and deliberate disregard for the rights and safety of consumers."
Studies link Zoloft to numerous birth defects
Studies have linked Zoloft use during pregnancy to numerous birth defects, including congenital heart defects, cleft lip and clef palate, limb abnormalities like club foot, craniosynostosis (malformed skull), omphalocele (a condition in which the baby's intestines protrude through the navel), persistent pulmonary hypertension of the newborn, and anal atresia (partial or total closure of the anus).
Many lawsuits have been filed over Zoloft birth defects. About 250 of these lawsuits have been consolidated in the Zoloft MDL so far. The bellwether trials in the MDL are scheduled to begin in September 2014.