Progress Made in Pradaxa MDL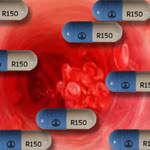 Pretrial proceedings in the Pradaxa MDL, which consolidates 120 Pradaxa lawsuits in U.S. District Court for the Southern District of Illinois, are proceeding well under the supervision of Judge David R. Herndon.
In the most recent developments, Judge Herndon established a case management plan which requires both plaintiffs and defendants to appoint an attorney team to oversee negotiations for settlements. The attorney team must be appointed by July 1, 2013. In addition, Judge Herndon has ordered both sides to meet once a month to discuss the possibility of for reaching a settlement before the first bellwether case goes to trial in August 2014.
Plaintiffs claim injuries from Pradaxa bleeding
Approved by the FDA in 2010, Pradaxa is an anticoagulant intended to lower the risk of stroke in patients with atrial fibrillation by preventing the formation of blood clots. Pradaxa was marketed as a more convenient alternative to warfarin (sold under the brand name Coumadin), because Pradaxa does not require patients to adhere to a restricted diet and regularly monitor blood levels, as warfarin does.
However, Pradaxa was soon found to have a serious risk. All anticoagulants carry a risk of uncontrolled bleeding because they stop blood from clotting. But while bleeding from warfarin can be reversed by administering Vitamin K, Pradaxa bleeding has no known antidote, making it far more dangerous. Many patients have suffered uncontrolled bleeding injuries and even Pradaxa related deaths as a result.
MDL and bellwether trials
In March, 2012, the first Pradaxa lawsuit was filed against Boehringer Ingelheim, the drug's manufacturer. It was followed by many more. Five months later, the Pradaxa MDL was established to consolidate Pradaxa lawsuits and streamline the litigation process.
The first bellwether trial in the MDL is scheduled to begin in August, 2014. Bellwether trials are representative cases that give attorneys for both sides insight into how juries are likely to respond to evidence and testimony. Although each lawsuit in the MDL remains separate and is decided individually, bellwether trials are useful to attorneys in planning their strategies and negotiating possible settlements.
The MDL continues to grow as more patients who have suffered injuries from Pradaxa internal bleeding file lawsuits seeking compensation. New cases may be added to the MDL up until the start of the first bellwether trial.