Risk of PPHN With Zoloft Use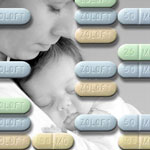 Zoloft is a commonly prescribed antidepressant that is used in the treatment of some of the most common psychological illnesses–obsessive compulsive disorder, general anxiety disorder, post traumatic stress disorder, and depression. Although most patients claim they were led to believe that the drug is safe to use during pregnancy, Zoloft has been linked to a number of serious birth defects that can affect the fetus of a pregnant user of the medication. Persistent pulmonary hypertension of the newborn is one such birth defect that can have consequences for a child throughout his or her life.
[SmartLink zoloftlawsuit]
Persistent pulmonary hypertension
Persistent pulmonary hypertension of the newborn, or PPHN, is a birth defect that affects a baby's lungs. In an infant with PPHN, the ductus arterious fails to close as it would otherwise normally do, and this creates abnormally high blood pressure and blood flow to the lungs. Because of this, blood is diverted from the newborn's lungs, which creates short- and long-term effects that can cause serious health risks and complications for the child throughout his or her life. Studeis have shown that babies born to women who took SSRI antidepressants, including Zoloft, during pregnancy are about six times more likely to develop PPHN than children of women who did not take these drugs.
The risk for developing Zoloft-related PPHN is even greater if women take the medication during the second or third trimester of their pregnancy. Further studies have shown that infants exposed in utero to Zoloft and similar SSRI drugs have a higher rate of other birth defects, as well. These include defects of the heart; atrial septal defects and ventrical septal defects have both been linked to the use of Zoloft during pregnancy.
Filing a Zoloft lawsuit
Some mothers or families who have given birth to a child affected by serious complications related to Zoloft choose to file a Zoloft birth defects lawsuit. Because of the delicate nature of these injuries, care for an infant can be expensive. Zoloft litigation might be the best way for families to receive compensation for medical bills and other injury-related costs they must now deal with.