Stryker Rejuvenate Lawsuit Alleges Company Concealed High Failure Rate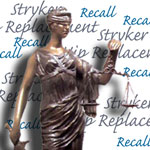 Represented by a Stryker hip lawyer, plaintiff Jeffrey Lomack filed a lawsuit against Howmedica Osteonics, d.b.a. Stryker Orthopaedics. The case was filed in the Superior Court, San Francisco County, California on December 6, 2012. The plaintiff alleges that the Rejuvenate hip implant, manufactured by the defendant, was defective and that the company concealed the unreasonably high failure rate of the device.
Stryker accused of using deceptive marketing practices
The lawsuit states that Stryker failed to inform the FDA of negative side effects linked to the Rejuvenate system in a timely fashion. This includes product failures as well as corrections. Lomack asserts that due to design and manufacturing failures, the Rejuvenate hip device was not built to insure that there would be no corrosion, deterioration, or inducing of severe incidences of metal toxicity in the recipient of the device.
Lomack claims the defendant used deceptive marketing practices in stating that the Rejuvenate system was a safe alternative to metal-on-metal bearing devices in spite of being aware that its titanium alloy performed poorly when it was combined with components made of chromium cobalt.
Plaintiff suffers from ongoing problems
After he received the modular neck device, Lomack claims to have suffered—and continues to suffer—from an inability to walk, severe pain, and required revision surgery to repair and replace the defective Rejuvenate.
In April of 2012, an urgent field safety notice to surgeons and hospitals nationwide was mandated by the manufacturer warning of them of complications with this Stryker hip implant. The notice references the following symptoms: formation of pseudotumors, adverse soft tissue reaction, metallosis, and necrosis. All of these issues were said to have been experienced by the plaintiff.
Heavy metal fretting and corrosion were cited in the decision by the company to issue a voluntary recall of the Stryker Rejuvenate in the United States.
Stryker Rejuvenate recall came eight months after plaintiff received the device
Lomack still suffers from side effects from the device including physical harm, damages, and economic losses stemming from the concealment and misrepresentations he claims the manufacturer committed.
Lomack charges Stryker with violation of the Consumers Legal Remedy Act, negligence, fraud, and strict liability. He seeks general, special, and punitive damages.
The company implemented the Stryker Rejuvenate hip recall in July of 2012. Lomack received the implant in October of 2011 and claims he subsequently suffered from serious injuries.