Texas Man Sues Takeda Over Actos Bladder Cancer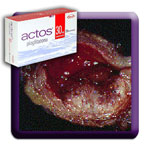 A Texas man who developed bladder cancer after using the diabetes drug Actos has sued Takeda Pharmaceuticals, manufacturer of Actos. The plaintiff, Carl T. Lampe, filed his Actos lawsuit on December 21, 2012 in the Circuit Court of Cook County, Illinois.
[SmartLink actoslawsuit]
Plaintiff took Actos for several years
Lampe was first prescribed Actos by his doctor in 2007 to help control his blood sugar and manage his type II diabetes, his lawsuit states. Four years later, on June 15, 2011, the FDA issued a public safety announcement warning that use of Actos for more than 12 months increases the risk of bladder cancer – a fact that Lampe was unaware of when he began taking the drug.
In March 2012, Lampe was diagnosed with bladder cancer. He now requires ongoing medical care and treatment and has other expenses related to his illness, and claims that he would not have taken Actos if he had been properly informed of the drug's risks. He brings counts of negligence and strict liability.
Takeda accused of concealing Actos risks
In his Actos bladder cancer lawsuit, the plaintiff claims that early animal studies and later human trials showed that Actos use increased the risk of bladder cancer, particularly when the drug was taken long-term, yet Takeda willfully concealed the link between Actos and bladder cancer.
Lampe's complaint also notes that on September 17, 2010, the FDA released an announcement stating that it was undertaking an evaluation of the five-year interim results of an ongoing 10-year study of Actos and bladder. Yet even after that FDA announcement, Robert Spanheimer, Vice President of Medical and Scientific Affairs for Takeda, told Reuters that the study did not show that Actos increased the risk of bladder cancer in patients.
However, after completing its review of the study's interim findings, the FDA issued a warning in June 2011 stating that Actos does indeed increase the risk of bladder cancer. Following that safety announcement, Takeda did finally update the drug's label warning to include the increased risk of bladder cancer from taking Actos long-term.