Woman Supported in Yaz Damages Bid By Swiss Insurance Giant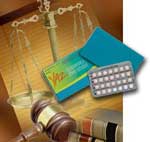 Switzerland's biggest health insurance company, CSS, is supporting a young woman who is pursuing legal action against German drug maker Bayer after experiencing side effects of the popular fourth-generation birth control pill sold as Yaz or Yasmin. The woman, according to reports in the Swiss media, suffered a pulmonary embolism that left her severely disabled after taking Yasmin, and medical costs for her treatment have mounted to a significant sum. CSS declared their support for the woman's clam on January 9th, 2013, and is demanding compensation from drug maker Bayer as a joint plaintiff in the lawsuit.
Yasmin side effects linked to long-term complications
Yaz and Yasmin are both manufactured by Bayer Pharmaceuticals, a german drug making giant that manufactures dozens of other popular products as well. They both are fourth-generation birth control pills that use the synthetic hormone drospirenone, a hormone that can prevent a woman from getting pregnant by causing her to not ovulate.
In May of 2012, the Food and Drug Administration in the United States announced plans to review all birth control pills containing drospirenone, in order to evaluate the risks associated with these particular medications. Studies have shown that drugs containing drospirenone put patients at a significantly greater risk of developing complications such as blood clots, venous thromboembolism, stroke, pulmonary embolism, deep vein thrombosis, and other serious–and even potentially deadly–conditions. Some Yaz patients have also reported gallbladder disease as a side effect of the medication.
Bayer has paid some settlements
Bayer has already paid compensation to a number of Yaz and Yasmin patients who experienced some of the more serious Yaz side effects and chose to file a lawsuit against Bayer. Although it is not clear what the individual settlements look like, the drug maker paid out $750 million to help settle 3,490 Yaz lawsuits. Yaz lawyers are helping patients take legal action against the drug maker after experiencing Yaz-related complications, and more and more patients continue to file suit against the drug making giant.