Zoloft Heart Defects Lawsuit Joins Pennsylvania MDL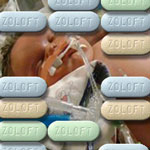 A new Zoloft birth defects lawsuit was filed against manufacturer Pfizer, Inc., in the U.S. District Court in the Eastern District of Pennsylvania on January 4, 2013, joining the ongoing multidistrict litigation (MDL).
The plaintiffs in the new filing allege that they were unaware of the risks of Zoloft when the mother took it while she was pregnant and it resulted in birth defects for her child. They claim that Pfizer was aware of the dangers and were obligated to warn consumers and medical professionals as to these potential problems. The manufacturer failed to do so.
Zoloft MDL joins similar cases in one court
The mother seeks compensatory and punitive damages. This case joins dozens of others taking part in the Pennsylvania MDL alleging Zoloft heart defects, abdominal defects, and limb abnormalities.
MDL is used to streamline pretrial processes by combining lawsuits making similar allegations against a common defendant into one venue to save time and money for both plaintiffs and defendants.
Studies show a link between Zoloft taken during pregnancy and heart defects
According to the lawsuit, the plaintiff began using the antidepressant Zoloft in 2006. While she was taking it, Pfizer allegedly knew of the potential dangers associated the drug. Studies conducted on both animals and humans as early as the 1990s indicated a link between the medication when it is used during pregnancy and birth defects such as heart malformations.
In spite of these studies, the plaintiff says that the company did not warn or disclose the risks of heart problems and other possible complications to consumers.
During her 2006 pregnancy, the mother was using Zoloft as treatment for her depression, anxiety and a mood disorder.
Baby diagnosed with Zoloft heart defects
The baby was born on October 13, 2006 and was diagnosed with heart defects including tetralogy of fallot and ventricular septal defect.
A ventricular septal defect happens when there is an improper closure between the heart's lower chambers. This hole allows oxygenated and un-oxygenated blood to mix together and potentially cause congestive heart failure. Surgery is often required to repair this issue.
Four different heart defects characterize tetralogy of fallot. They include ventricular septal defect and problems with the aorta, the right ventricle, as well as overall blood flow. This defect can cause improper feeding, blue tint to the skin, and slow development. Surgery is often needed to repair the defect and resume normal blood flow.