DePuy Recalls "Adept" Metal-on-Metal Hip Implant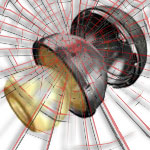 Complications stemming from higher than anticipated failure rates have plagued yet another DePuy hip replacement system. A spokesperson for Johnson & Johnson confirmed that the company is issuing another DePuy hip recall – this time for the Adept implant. The DePuy Adept recall will affect more than 7,500 implants sold abroad between 2004 and 2011. The news comes just two years after the manufacturer implemented a recall on other metal-on-metal devices – the ASR SR XL Acetablular System and the ASR Hip Resurfacing System.
DePuy hip recall affects Adept implants sold outside the U.S.
After analysis indicated that Adept implant recipients suffered premature DePuy hip failure, Johnson & Johnson cautioned orthopedic surgeons that the modular heads should not be used. The recent recall does not apply to the Adept femoral components, only the top part of the hip replacement system, according to DePuy officials. The DePuy Adept implants were sold in more than 21 countries worldwide, including Germany, Denmark, Australia, the United Kingdom and Canada. The all-metal Adept device was not sold in the United States.
Johnson & Johnson states that it alerted physicians about the DePuy Adept recall on January 14, 2013, after analyzing data concerning hip replacement systems in two countries. Registries in the United Kingdom showed that more than 12.1 percent of Adept implant recipients required revision surgery or replacement within seven years – revealing an unreasonably high failure rate. A DePuy spokesperson told Orthopedics Today, "Customers have been advised through the field safety notice to discontinue use and distribution of any ADEPT 12/14 Modular Heads they may still have in stock … Patients who received the Adept Modular Head should follow up with their doctor if they are experiencing symptoms and be treated according to local guidance/standard of care for patients receiving metal-on-metal articulations."
DePuy hip failure also reported with ASR implants
The Adept hip resurfacing and total hip systems have a similar design as the problematic DePuy ASR – another metal-on-metal device linked to a host of complications. The manufacturer pulled the ASR from the market in August 2010, but the DePuy hip recall came too late for thousands of people. Patients who received ASR components complained of device loosening, implant dislocation, bone fractures, and metal poisoning from the metal parts grinding against one another. Some went on to have revision surgeries from premature failure rates – estimated as high as 37 percent.
As it stands, Johnson & Johnson faces more than 10,000 DePuy hip lawsuits related to its ASR system, and the first ASR trial is currently unfolding in California state court. Expert testimony given by Johnson & Johnson executives during the trial indicates that the company may have been aware of early problems before issuing the DePuy ASR recall.
FDA cautions about metal-on-metal implant failure rates
On January 17, 2013 the FDA released a new safety communication regarding metal-on-metal implants. The agency warned healthcare providers that all-metal hip replacements are only indicated for patients who aren't suitable candidates for other prosthetic devices. The agency also cautioned patients who had already received all-metal implants to closely monitor with regular medical check-ups for early symptoms of device failure.