First DePuy ASR Lawsuit Dismissed After One Trial Day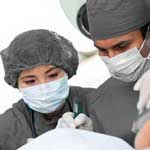 The first DePuy ASR hip lawsuit went to trial on January 7, 2013 in Maryland state court, but was dismissed the next day.
In addition to naming as defendants DePuy Orthopaedics and affiliates, the lawsuit had also brought counts against in-state defendant Chesapeake Surgical Ltd. According to Judge Crystal Dixon Mittelstaedt, after talks between the parties, the lawsuit was dismissed with prejudice regarding claims against Chesapeake Surgical Ltd., but without prejudice to claims against DePuy Orthopaedics Inc. and affiliates. The plaintiff, Moira Jackson, is expected to re-file her lawsuit against DePuy in the U.S. District Court for the Northern District of Ohio, where the DePuy MDL is based.
Plaintiff claimed serious injuries from defective ASR implants
Jackson, a retired dancer, had undergone hip replacement surgery in both hips with the ASR implant. Complications such as loosening occurred in both implants, and Jackson was forced to undergo hip revision surgery to have both implants replaced. In her lawsuit, she alleged that she suffered pain, immobility, and the complete disruption of her life because of the faulty implants, and blamed DePuy for failure to warn. She had sought at least $15 million in damages.
DePuy hip lawyers around the country had been watching the case closely to see how the jury would respond. Since the case has been dismissed, they are turning their attention to the next DePuy ASR trial, which is scheduled to begin In California on January 22, 2013. The first bellwether trial in the DePuy MDL in Ohio is scheduled to begin in May 2013.
DePuy ASR hip recall
The DePuy ASR hip was approved by the FDA in 2003, but after only a few years, DePuy began receiving numerous reports of complications including pain, stiffness, impaired mobility, swelling, loosening of the implant, and metal poisoning caused by the friction of metal parts rubbing against each other, which caused metal debris to scrape off and get into patients' bloodstream and tissue.
The ASR hip was taken off the market in Australia in 2009. The following year, a DePuy ASR hip recall was issued in the United States. In December 2010, the Judicial Panel on Multidistrict Litigation established the MDL to consolidate federal DePuy lawsuits in the U.S. District Court for the Northern District of Ohio under Judge David A. Katz. More than 10,000 DePuy lawsuits have been filed to date.