Lawyer Appointed by Actos MDL Judge to Advise "Pro Se" Plaintiffs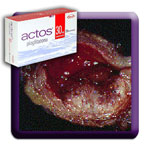 The Actos MDL was established on December 29, 2011 to consolidate all federal Actos lawsuits in one court in the Western District of Louisiana under Judge Rebecca Doherty. A recent appointment by Judge Doherty will allow plaintiffs who are not represented by lawyers to have the information they need to represent themselves in court.
The judge's order, which was signed on January 29, 2013, appoints what is known as a "pro se liaison." Pro se (Latin for "for one's own behalf") means that the plaintiff is representing himself or herself, without retaining a lawyer to represent him or her. Plaintiffs who represent themselves in their Actos lawsuit are at risk of missing out on important information, evidence, or documents that can affect their cases. A pro se liaison is an attorney appointed by the court to provide information to these plaintiffs, such as correct fact sheets for the drug. The liaison is also responsible for maintaining and up-to-date list of all pro se plaintiffs, and for assisting any pro se plaintiffs who are in prison with their legal documents and applications.
Actos MDL progress
This appointment is the latest move by Judge Doherty in helping the MDL to progress toward trials. In April 2012, the judge appointed 19 Actos lawyers to a steering committee, giving them the responsibility to manage the litigation, lead efforts to gather evidence, and argue key points regarding trial scheduling, procedure, and selection.
Takeda Pharmaceuticals, the manufacturer of Actos, may face as many as 10,000 lawsuits alleging Actos related bladder cancer, according to a May 2012 estimate by the financial news agency Bloomberg.
Actos and bladder cancer
Plaintiffs who file Actos lawsuits typically allege that the diabetes drug caused them to develop bladder cancer, and that Takeda was aware of the drug's risks but did not adequately warn patients and doctors of those risks.
In 2011, the FDA ordered Takeda to add a warning for bladder cancer to the Actos label after the agency's evaluation of the five-year interim results of a 10-year study found that use of Actos (pioglitazone) for longer than 12 months increased the risk of developing bladder cancer by 40 percent. Although sales of Actos have been suspended in France and Germany, the drug remains on the market in the U.S.