Louisiana Mother Files Zoloft Lawsuit Over Son's Congenital Heart Defect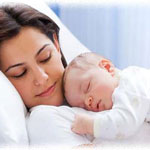 A Louisiana mother whose son was born with a congenital heart defect after she took the antidepressant Zoloft during her pregnancy has sued Zoloft manufacturer Pfizer. The Zoloft birth defects lawsuit was filed on January 22, 2013 in the U.S. District Court for the Middle District of Louisiana.
Boy born with ventricular septal defect
According to the Zoloft lawsuit, the mother plaintiff, a resident of Livingston Parrish, Louisiana, was prescribed Zoloft during her pregnancy. She claims that she was never informed that the drug could cause birth defects when ingested during pregnancy. When her son was born in 2007, he was found to have a ventricular septal defect, commonly referred to as "a hole in the heart." In her lawsuit, the mother plaintiff seeks financial compensation for the medical expenses she has incurred for her child, who is now five years old.
Zoloft linked to many birth defects
Zoloft (sertraline) is one of a class of antidepressants known as selective seretonin reuptake inhibitors (SSRIs), which work by increasing the amount of seretonin in the brain. Seretonin is a neurotransmitter linked to feelings of well-being and emotional balance. Zoloft was first approved to treat depression in 1991. By 2005, it was the most widely prescribed antidepressant in the United States.
However, studies have found that SSRIs such as Zoloft can cross the placenta when taken by pregnant women, impairing the development of the fetus and causing a multitude of birth defects including cardiac defects (such as ventriciularl septal defect, the defect suffered by the plaintiff's son in this case, and atrial septal defect), limb abnormalities such as club foot, cleft lip and cleft palate, PPHN, spina bifida, craniosynostosis, Tetralogy of Fallot, and patent ductus arteriosus.
In 2006, the New England Journal of Medicine published a study that found that women who took Zoloft after the 20th week of pregnancy were six times more likely to give birth to a baby with PPHN than pregnant women who did not take Zoloft. Following the study's publication, the FDA issued a warning about the possible link between Zoloft and PPHN. In 2007, the New England Journal of Medicine published a different study which found that mothers who took Zoloft while pregnant had a 50 percent greater risk of giving birth to a baby with heart defects.
Many lawsuits have been brought against Pfizer alleging that the company marketed a dangerous, defective product and failed to warn patients of the potentially devastating side effects. In August 2011 alone, 19 West Virginia mothers filed lawsuits blaming Zoloft for their children's birth defects.