Massachusetts Woman Claims Severe Side Effects From Yaz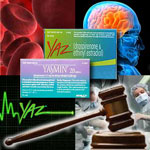 A new lawsuit was filed by a Yaz lawyer against Bayer Corporation, Bayer Healthcare Pharmaceuticals, and others alleging severe and personal injuries as a result of the oral contraceptive.
The case was filed on January 23, 2013, in the U.S. District Court for the Southern District of Illinois on behalf of Massachusetts resident Lisa A. Moon. This case joins federal MDL No. 2100. The MDL is a consolidation of plaintiffs alleging severe side effects from Yaz and Yasmin.
She began taking Yaz in April 2010 after receiving a prescription from her doctor. Because of her side effects, the plaintiff's attorney makes claims of unjust enrichment, fraud, negligence, breach of implied warranty, breach of express warranty, and strict liability as well as other counts. Plaintiff Moon seeks punitive damages, compensatory damages, and medical expenses.
FDA receives over 50 reports of deaths in patients using Yaz, Yasmin and Ocella
First approved by the FDA in 2001, Yaz and Yasmin are a combination of the progestin drospirenone and the estrogen ethinyl estradiol. Yaz and Yasmin are slightly different in that Yaz has a slightly lower amount of ethinyl estradiol.
The FDA received reports of over 50 deaths in women who had been using Yaz, Yasmin and the generic form of the medication, Ocella. Moon's attorney says that the number is higher because of underreporting of incidents; he suggests that there may be 10 to 100 times more incidents than have been reported. A recall of the birth control pills has yet to be implemented.
Yaz and Yasmin linked to serious side effects
Side effects linked to Yaz, Yasmin and Ocella have been reported in the FDA's adverse event data. Some of these problems include:
• Yaz blood clots
• Gallbladder and kidney problems
• Stroke
• Electrolyte imbalance
• Hyperkalemia
• Hyponatremia
• Atrial fibrillation
• Bradycardia
• Tachycardia
• TIAs or transient ischemic attacks
• Sudden death
• Hyperkalemic arrhythmias
• Myocardial infarction (heart attack)
• Heart arrhythmia
Ingredient in Yaz and Yasmin different from older contraceptive pills
The contraceptive pills Yaz, Yasmin and Ocella are referred to as "COCs" because they have estrogen and progestin. The difference between these birth control medication and others is the presence of the fourth generation progestin drospirenone.
Prior to FDA approval, studies on these pills indicated that there are certain effects from drospirenone that do not occur in traditional second generation progestins. They are possibly more dangerous. Drospirenone is a diuretic and can lead to an increase in the levels of potassium in the blood. As a result the patient can experience hyperkalemia—elevated blood potassium. This can cause heart rhythm disturbances such as bradycardia. Untreated, it can be fatal.
It has also been reported that drospirenone can cause kidney stones and gallbladder disease. To correct these problems, surgery is sometimes necessary.