Minnesota Woman Alleging Chantix Side Effects Joins MDL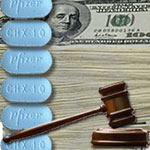 A new case has joined the MDL against Chantix—MDL No. 2092—seeking compensation for the side effects of the Pfizer manufactured medication designed to assist people in quitting smoking.
Through her Chantix lawyer, the Minnesota plaintiff states that she suffered from suicidal thoughts, vivid dreams, anxiety and depression while taking the drug. Originally filed in September of 2012 in the U.S. District Court, Northern District of Alabama, the case is taking part in the Chantix Products Liability Litigation. The plaintiff demands a jury trial and requests punitive and compensatory damages for her injuries.
FDA issues public safety alert regarding Chantix
A public safety alert was issued by the FDA in 2008 informing the public of dangerous side effects linked to Chantix. Along with those listed by the Minnesota plaintiff, others have noted aggressive behavior and mood swings as well as attempting suicide. The FDA noted that there is an increasing likelihood that there of an association between Chantix and "serious neuropsychiatric symptoms."
Over 2,500 lawsuits have been filed against Pfizer due to side effects from Chantix. Several have been settled out of court for amounts that have not been disclosed. A black box warning was placed on the Chantix packaging in 2009, but an increasing number of patients are filing complaints and seeking compensation from Pfizer because of the company's failure to warn of the potential side effects of the medication.
No recall of the drug has been implemented as of yet.
Plaintiff was unaware of dangers of Chantix
According to her lawsuit, the Minnesota plaintiff was prescribed and began using Chantix (varenicline) in October 2008. She was unaware of reports of rage, suicidal thoughts, depression, and violent mood swings in patients having used Chantix. The most commonly reported problems with Chantix are vivid dreams, sleep disturbances, and nausea. More serious problems such as suicidal tendencies, sudden rage, hallucinations, memory loss, and severe depression have been reported.
Chantix prescribed to over four million people
Since Chantix was approved by the FDA in 2006, the medication has been prescribed to over four million people. It works by reducing the desire and pleasurable feelings that accompany cigarettes and other products containing nicotine.
The plaintiff filed her case via short form complaint. In doing this, she is adopting and incorporating by reference all claims made in the MDL master consolidated complaint. During her trial, details of the injuries she allegedly suffered when using Chantix will be addressed.