New Yaz Lawsuit Joins Coordinated Litigation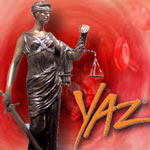 Represented by her Yaz lawyer, a new complaint was filed alleging severe side effects after using the Bayer manufactured contraceptive pill Yaz. The plaintiff alleges that she suffered from two pulmonary embolisms as well as other side effects. The case was filed on January 17, 2013, in the Superior Court of Los Angeles County where it joins the coordinated litigation against Bayer.
Plaintiffs nationwide are seeking compensation for issues relating to Yaz via settlements or jury awards.
Plaintiff suffered from two pulmonary embolisms after using Yaz
The plaintiff, Janie Winning, states that she suffered from two pulmonary embolisms on February 2, 2010, and blames her use of Yaz. Her husband, John Winning, is listed on the complaint alleging loss of consortium for his wife's injuries. The Winnings seek damages for her injuries, economic loss, and medical expenses.
They adopted the master complaint filed in the Los Angeles court alleging problems from Yaz, Yasmin, and the generic form of the drug, Ocella. The plaintiff is therefore bound by rulings in the coordinated cases.
A coordination of litigation is generally used when there are multiple cases filed against a common defendant with similar complaints. This also functions by streamlining the legal process and speeding the proceedings for plaintiffs and defendants.
Studies indicate danger of pulmonary embolism from Yaz
Other plaintiffs have alleged Yaz side effects such as pulmonary embolism. The British Medical Journal published a study in 2009 that highlighted an increased risk of blood clots in people who used Yaz. In 2011, another study indicated a higher rate of blood clots in connection to Yaz.
The FDA has allowed these oral contraceptives to remain on the market. This has no effect on people who have been injured choosing to file a lawsuit against Bayer.
The plaintiff's complaint is pending in the Los Angeles court with others who have suffered from side effects of the drug. She and her husband seek compensation for lost wages in the past, present and future; they seek payment for medical expenses, economic losses, and emotional suffering.
Bayer has settled other cases for substantial amounts. They will possibly pay millions more in the future.
Pulmonary embolism can be life-threatening
A pulmonary embolism is a blood clot that forms in one of the arteries of the lung. It can also form in other parts of the body, break loose and travel to the lung. This breaks the blood flow and can be a life-threatening situation. Symptoms of this include: chest pain, a bloody cough, and shortness of breath. Treatment of pulmonary embolism can be medication to dissolve it or possible surgery to remove the blood clot.