Number of Actos Lawsuits Continues to Grow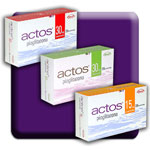 Takeda Pharmaceuticals is facing an increasing number of Actos lawsuits alleging that the diabetes drug caused the plaintiffs to develop Actos side effects such as bladder cancer or congestive heart failure, neither of which was listed as a potential side effect on the medication's original label.
History of Actos
Actos (pioglitazone) was first approved in 1999 for the treatment of Type 2 diabetes. But over time, plaintiffs reported developing bladder cancer after using the drug for an extended period of time. In 2011, the FDA published its evaluation of the five-year interim results of a 10-year epidemiological study of the link between Actos and bladder cancer. The results found that patients who used Actos for more than 12 months had a 40% increased risk of bladder cancer as compared with people who never took the drug. Based on those results, the FDA then added a warning about bladder cancer to the Actos label. The same year, a 2011 study conducted by insurance companies led to an Actos recall in France and Germany, However, Actos remains on the market in the U.S.
Actos litigation
Hundreds of plaintiffs have filed an Actos lawsuit against Takeda, alleging the the drug company knew or should have known that Actos could cause bladder cancer, but failed to properly warn patients and doctors of this risk. Lawsuits have been filed in both state and federal courts around the United States. The first state trial is scheduled to begin this month in California.
On the federal level, many Actos lawsuits have been consolidated into a multidistrict litigation (MDL) in the U.S. District Court for the Western District of Louisiana. The first two bellwether trials are scheduled to begin on Nov. 3, 2014, and Jan. 12, 2015. New plaintiffs can add additional cases to the MDL up until the start of bellwether trials.
Actos and cardiomyopathy
While bladder cancer has gotten most of the attention, Actos has also been linked to cardiomyopathy (congestive heart failure), a life-threatening condition in which the muscles of the heart are weakened, causing circulation of the blood to decrease to a dangerous level, damaging the organs. Before Takeda began marketing Actos, a clinical trial of 5,238 patients found that a significant number experienced a 'serious heart failure event' and some even died.
In 2012, the American Heart Association and the American College of Cardiology advised physicians to closely monitor the use of Actos ensure that patients were fully informed of the drug's risks. In addition, the FDA requests that patients who experience bladder cancer, cardiomyopathy, or any other Actos side effects submit a report to the agency's MedWatch program.