Pennsylvania Lawsuit Filed by Bladder Cancer Patient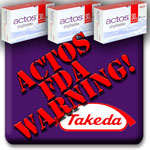 An Actos bladder cancer lawsuit was recently filed in Pennsylvania District Court and claims that the plaintiff used the type II diabetes medication Actos long-term, leading to the development of bladder cancer. The lawsuit was filed on January 22, 2013, by a couple who are both seeking compensation from drug maker Takeda. George Haddad is the Actos user who claims to have developed bladder cancer after taking the medication; his wife Doris Haddad is seeking compensation for loss of consortium. Both plaintiffs are seeking compensation for economic loss and emotional distress.
Bladder cancer linked to diabetes drug
Actos is a medication used in the treatment and regulation of symptoms of type II diabetes, a chronic condition marked by a patient's inability to regulate blood sugar normally. Haddad claims that he began taking Actos in 2002 at the recommendation of his physician in order to treat his diabetes, and was diagnosed in 2004 with bladder cancer. He says that he had to undergo surgical treatment in order to treat his bladder cancer, and says that he suffered medical distress, physical pain, and permanent injuries as a result of the disease. He says that, to this day, he must endure regular medical care, medications, and other monitoring in order to prevent the cancer from coming back.
A three-year study on Actos, published in 2005, showed an increased risk of bladder cancer for users of Actos, especially those taking the medication for twelve months or longer. The Food and Drug Administration has also found that Actos can be linked to a "statistically significant" increase in the risk for bladder cancer. Haddad's lawsuit notes this risk and says that, although the FDA recently mandated that bladder cancer be included on the drug's warning label, this warning came too late for him and he must now live with the Actos side effects he has developed.
Multiple damages sought in suits
The lawsuit filed by Mr. and Mrs. Haddad is one that mirrors the dozens of other lawsuits filed by plaintiffs against drug maker Takeda after they or their loved ones suffered serious side effects related to the type II diabetes medication. The couple is seeking compensatory, punitive, and exemplary damages for the injuries and costs related to George Haddad's Actos side effects.