Pennsylvania Zoloft MDL Bellwether Selection to Begin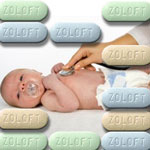 Zoloft, manufactured by Pfizer, is a selective serotonin reuptake inhibitor (SSRI) antidepressant medication used to treat patients suffering from depression or problems related to depression. Pfizer does not issue a warning against pregnant women taking Zoloft, but studies have indicated a connection between use of Zoloft in pregnant women with birth defects in infants.
One such study published in 2006 in the New England Journal of Medicine showed a causal relationship between the use of Zoloft and other SSRIs with babies suffering from PPHN (persistent pulmonary hypertension of a newborn). They also published a study in 2007 finding that women who took Zoloft during their pregnancy had a 50% higher chance of the baby having heart defects.
Pfizer accused of failing to warn of Zoloft risks
57 federal Zoloft lawsuits were consolidated in the Eastern District of Pennsylvania by the U.S. Judicial Panel on Multidistrict Litigation (JPML) on April 17, 2012. The did so because, as the panel stated, MDL would conserve resources of plaintiffs, defendants and the judiciary; would eliminate the chance of duplicate discovery; and would prevent inconsistent rulings.
More plaintiffs have come forward and filed lawsuits against Pfizer with the help of a Zoloft lawyer since centralization. Pfizer is accused of failing to adequately warn users of Zoloft as to the dangers to the unborn children when taken by pregnant women. It has also been said that the company should have performed more research before releasing the drug to the market to make sure it was safe.
Plaintiffs are seeking compensation for pain, suffering, lost wages, medical expenses and other complaints.
25 lawsuits to be considered for bellwether status
On January 17, 2013, Judge Cynthia Rufe—overseeing the MDL—issued a court order to outline the process for selecting the first 25 lawsuits that will be considered for early trial dates. Selected from over 250 filings pending in the MDL, one or more will likely head to trial in September 2014.
Attorneys representing the plaintiffs and defendant will pick cases for the initial discovery group. By February 22, 2013, the selection of the cases being heard early will be made.
Attorneys for the plaintiffs will select 12 cases for inclusion in the group of 25. Their list must be sent to the defendants on or before February 15, 2013. In turn, attorneys for the defendants will select 13 cases by February 22, 2013. Judge Rufe also listed the procedure if any of the cases selected by either side is dismissed.
Bellwether cases may expedite settlements
When the discovery portion of the MDL is completed, one or more cases going to trial in September 2014 will be selected by the court. These are referred to as "bellwether trials." A bellwether trial is essentially a "test" trial, providing insight to each side as to how juries will react to the case as it is presented. If the trials appear to favor the plaintiffs, the defendant Pfizer might choose to begin negotiating settlements to prevent costly jury verdicts.