Pradaxa Bleeding Problems 'Five Times' Riskier Than Warfarin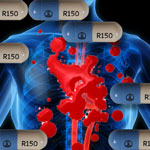 A report submitted to the FDA has found blood-thinner Pradaxa to be five times riskier than the older, more established warfarin. The lack of an antidote for the former make Pradaxa bleeding problems considerably more dangerous, according to a review conducted by The Institute for Safe Medication Practices (ISMP).
The ISMP's analysis of adverse events caused by anticoagulants looked at complaints from the second quarter of 2012. Their QuarterWatch report compared the seriousness of warfarin, Xarelto and Pradaxa bleeding problems, including how likely they were to result in death. It found that Pradaxa generated 956 adverse event reports, with 178 leading to death, compared to  214 complaints against warfarin, just 14 of them resulting in death.
Lack of antidote may exacerbate Pradaxa side effects
The disparity between the risks associated with Pradaxa and other blood-thinners is attributed to the ineffectiveness of reversal agents normally used to quell bleeding. Warfarin and other drugs respond to vitamin K, which reverses their effects. Pradaxa has no such antidote, and critics of the drug say fewer prescriptions and greater public awareness would reduce the number of fatalities.
Also included in the report was a New Zealand study claiming patients with kidney problems were at greater risk of complications. The report said initial media attention when  Pradaxa was released in 2010 focused on the benefits – namely the need for less diet monitoring and fewer blood tests than rival drugs – rather than the potentially harmful side effects. The ISMP report concurred with accusations of media bias.
Death toll may exceed 500
During its two years on the market, Pradaxa has generated more than $1 billion for German pharmaceutical company Boehringer Ingelheim. Within 12 months of going on sale, the FDA received 2,367 reports of Pradaxa bleeding problems. It has been linked to more than 500 deaths in the United States alone, prompting calls for a market withdrawal.
Pradaxa vs. warfarin
The drug maker has responded to criticism by citing internal trials that found the rate of hospitalization was around the same for Pradaxa and warfarin. They also suggested  analysis of the FDA's adverse event reporting was flawed, indicating there were key differences between those who complained of Pradaxa bleeding problems compared to those on warfarin.
Warfarin (which is sold under a variety of brand names including Coumadin, Jantoven and Waran) has been used with great success since the 1950s. It has proved to be an effective, relatively safe preventive treatment for blood clots, and remains the most widely prescribed oral anticoagulant in the U.S. One major pitfall with warfarin is the necessity for regular blood testing to ensure the right dosage is being taken. It also interacts with other common medications, making it unsuitable for some patients.
Boehringer Ingelheim faces legal action
The number of Pradaxa lawsuits filed against Boehringer Ingelheim now stands at around 200. Claimants allege the company failed to adequately warn consumers of the risk of uncontrollable bleeding that can occur as a result of taking Pradaxa.
Multidistrict litigation is underway, compiling a handful of cases to be heard in August 2014. District Judge David R. Herndon is overseeing the process, and has ordered the parties to meet on a monthly basis during the year leading up to the litigation, to discuss the possibility of reaching settlements.